Not even a month ago I signed up for Pinterest. You can see my early days here when I was just dipping my toes in the Pinterest water. Now it has become a bit of an obsession, my place to go when I'm stuck writing, needing a break from writing, or should be writing.
The thing is, it is wonderful inspiration for writing Regency. There is, for example no end of Regency fashion images. I especially like the photographs of real clothing. Somehow I can imagine my characters in such clothes more easily than from a fashion print.
Like this one on the left, originally from the Bowes Museum.
I also liked images of men's fashions, which we so rarely see in fashion prints.
Another way Pinterest is useful is that it provides visual ideas for setting, whether it be inside or out.
Here's are images of the drawing room at No. 1 Crescent, Bath and of Keddleston Hall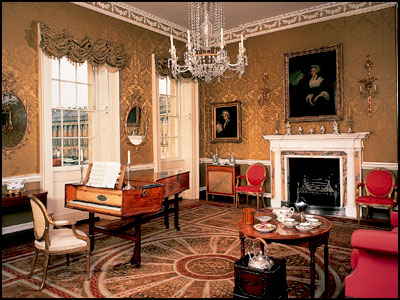 Then there is art that inspires, like this image from Jane Austen's World
I'm sure you get the picture (pun intended).
Images are powerful. A glance tells us so much in an instant, not only about the facts of the subject matter but also about color, design. Even lighting can convey mood or emotion.
I know some of you have joined the fun at Pinterest, because you've repinned my images and I've repinned yours. It is fun to see who likes what.
I've never quite gotten the hang of social media beyond blogging until this particular form.
What about you? What is your favorite form of social media? Do you like Pinterest?
By the way, for those of you who cannot wait until A Not So Respectable Gentleman? is released on July 24, it is available now for order at eHarlequin!