Occasionally I find a book that's so extraordinary, so wonderful, that all I want to do is read to the neglect of all else. Yet at the same time I can't bear the thought of coming to the end, and want to take my time savoring every phrase and sentence.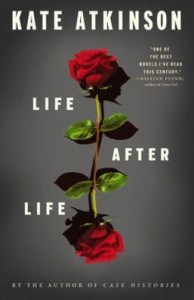 I've been fortunate enough to read two such books in the past couple of weeks. The first one, , by Kate Atkinson, I borrowed from the library for the kindle, and then decided to buy it. In hardback. It was massively on sale but I knew this was something I'd keep and that this was too good for the kindle. It's astonishing. I reached a new level of appreciation for a book on the commute–crying in public on the Metro (ranking way higher above my previous criteria, missing my stop or getting on the wrong train). How to describe this book … well, it's about a woman whose life ends many times until she can get it right and includes amazing vivid scenes of life from before World War I through the blitz. Read more about the book at Kate Atkinson's site.
The other book, which I'm just a few dozen pages into, is Hilary Mantel's Bring Up the Bodies, the sequel to Wolf Hall, the center volume of her three-book series about Thomas Cromwell. Thomas Cromwell has been branded a villain in history, the right hand man of Henry VIII who was responsible for the dissolution of the monasteries (or so the simple version goes). He rose from humble beginnings to a position of great power, playing the dangerous game of power with the Tudors. It's all familiar history that's been dumbed down, prettified, and made safe by The Tudors and Philippa Gregory's The Other Boleyn Girl. But this book, these books, are brilliant and complex and chillingly beautiful; written in third person present tense, an interesting choice, and Bring Up the Bodies has one of the best backstories in a sequel that I've ever read.
Have you read either of these books or authors? What have you been reading?