Happy 4th!
Although firework displays were common throughout the Georgian period I tend to associate them with pleasure gardens.  Here's a description of  the famed Madame Saqui (1786-1866) in 1816 who walked the highwire at Vauxhall Gardens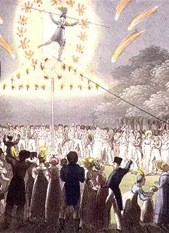 while fireworks exploded all around:
Suddenly a bell rings, the music ceases, away runs the whole party, you follow, unknowing why or whither. But in spite of the tumult and chattering you shortly arrive at the end of one of walks and perceive that fireworks are about to be let off. In a moment the whole air is ablaze, crowns, hearts, initials and various figures show themselves in meteoric flashes and disappear, attended by sudden flashes which gleam on all sides through the wreathing smoke and culminate in a terrifically grand spectacle: the heroine of the piece [Saqui] appears as a rope-dancer, ascends the cord which at a considerable angle is rigged to a height of seventy or eighty feet. Through the smoke and flames she rapidly climbs the blazing pinnacle to the top where rockets seem to graze her in her course, exploding above, beneath, around her and spangling her flimsy dress with their scintillations. Every moment you expect to see the rope severed, to see her precipitated from the dizzy height. But still she supports herself like those fabled Elves which ride upon the storm.
Have a great holiday. Are fireworks tonight in your holiday plan?