This week several of the Riskies and I will be traveling to Atlanta to the Romance Writers of America annual conference and the Beau Monde, RWA Regency Chapter, mini-conference. Our Janet will be presenting a workshop at Beau Monde, Jewish and Black Communities of Georgian London. Janet and I will also be celebrating the 10th anniversary of the Wet Noodle Posse, the Golden Heart finalists of 2003.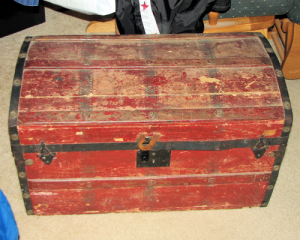 But I'm not thinking of that today. Today I'm packing my pink fabric suitcase. Of course if this were Regency times, I'd be packing a trunk.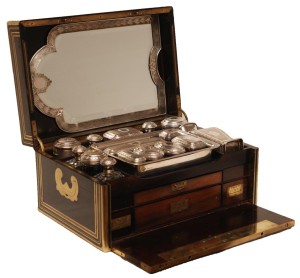 But I'd also need a cosmetic case-I have a matching pink tote that I use for all my cosmetics, but in the Regency, I might have a French Necessaire, like this one at auction here.
On Tuesday I'll be taking an airplane, the fastest way to travel to Atlanta. In the Regency, I'd travel by stage coach, the era's equivalent.
Now…what would be the Regency equivalent of a Romance Writers conference?
I hope to see some of our Risky commenters at RWA. Please come up to us and say hi!
At the Literacy booksigning, I'll be participating in a Romance Trading Cards giveaway, along with several other authors. I'll have albums and romance trading cards for A Reputation for Notoriety and Born To Scandal.