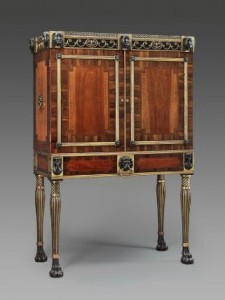 Last weekend, I went to Boston's Museum of Fine Arts to see the John Singer Sargent Watercolors exhibit, which was quite wonderful. I'm a big JSS fan.  But I'm not here to tell you about that. One of the smaller exhibits that caught my eye as I was trying to find my way through the maze that is the MFA was the much smaller Art of the English Regency. (I just had to go back to make sure Elena hadn't covered this in her posts about her visit to the MFA – she didn't, but if you haven't read her posts on Regency Pianos and Esoteric Strings, you should).
Although this exhibit is called Art of the English Regency, it's mostly about Regency interior design with a solid representation of Thomas Hope, the father of interior design.  It was a vivid illustration of the frequently outlandish design choices made by the Beau Monde.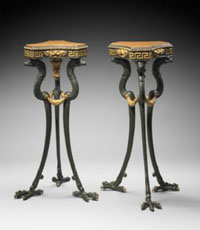 Some of the furniture was along the elegant lines we would like to think of when we decorate our Regency townhouses, but quite a lot of it reflected the ubiquitous Egyptian Revival and equally insane furniture designs.  My particular favorite was the pair of griffin tripod stands complete with clawed feet (Griffin claws, I suppose).  But we should not ignore the cabinet on a stand attributed to James Newton, which combines the elegant Regency lines with decorations that look like lion's head doorknockers and Egyptian sarcophagi.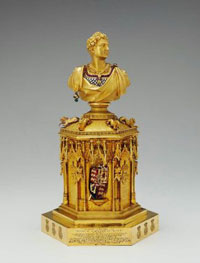 Of course, your room needs to be lighted and what better than chimera candlesticks and  griffin wall lights (perhaps to complement your griffin tripod stand).  And, you it wouldn't be complete with out a (very flattering) bust of George IV.
This little jewel of an exhibit was an excellent reminder of the kinds of interiors our characters might have chosen to live in.  It was fun to visit and maybe fun to live with.  What do you think?