It is too late for me to put anything on my Christmas list–Christmas is only two days away, yipes–but there is nothing to stop me from dreaming, is there?
So I might as well dream about receiving Regency gifts.
One item I would love to have is a Regency era nightgown. A reproduction of one, I mean. The nice thing is, I could probably get one of these someday. Here's a particularly lovely one, from White Nightie.
I once had a nightgown something like this one. A college friend gave it to me. It had been her grandmother's. I loved that nightgown and wore it for years until it wore out.
I've always wanted a piece of Regency era furniture. A pretty chest of drawers or something. This piece on ebay would do very nicely, I think. It would be lovely to furnish a home with such furniture, although I'd opt for modern beds and sofas. And electric lighting.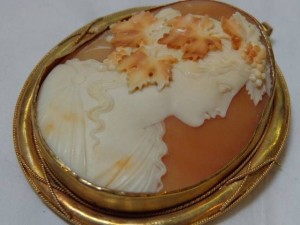 What Christmas list would be complete without jewelry? I've always wanted a genuine antique cameo. This one, also on ebay, is lovely.
What I should be doing, rather than dreaming of Regency gifts is wrapping some!
What do you wish for for Christmas this year? What do you have left to do?
Look on my website for the grand prize winner of the Harlequin Historical Authors Holiday Giveaway.