Featured 99 cent ebook – The Lady from Spain by Gail Eastwood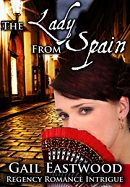 Spy, innocent, or something else?
Posing as a Spanish widow for safety's sake, Falcarrah Colburne returns to England on a dangerous personal mission. Lord Danebridge, the handsome lord she meets upon her arrival, makes certain that she will need his help, for the government has assigned him to learn if the lady is a spy. Falling in love is not part of his plan for unraveling her secrets. After he has lied to, stolen from, and spied upon her, can he hope to win her trust or divert her from her dangerous path? Can she give up the road to revenge for the risky road of love?
* A Holt Medallion Finalist *
"A sparkling jewel of a Regency romance…another wonderful love story full of cleverly plotted intrigue…topped off with an intensely powerful resolution." — (4 1/2 stars) Romantic Times
Buy at: Amazon ~ Barnes & Noble ~ Apple ~ Kobo ~ Smashwords
Gail Eastwood started writing her own "books" as a hobby at age seven. Through a variety of careers including reporter, rare books dealer, and freelance journalist, she never gave up the dream of becoming a novelist. She lives in her native state of Rhode Island with her husband, two adult sons, and one lazy cat, where she also teaches writing classes and workshops. She holds a degree in Humanities/Comparative Drama and Sociology from Case Western Reserve University. Spending time with her family, indulging in Renaissance and English Country dance, and pursuing her interests in historic costuming, reading, theater, and the beach infringe on her writing time. Her favorite travel destination is, no surprise, England.
Learn more and connect with Gail at:
Gail's website ~ Facebook ~ Twitter
For a complete listing of titles offered in this sale, please visit the Risky Regencies 99 Cent Sale Page.