Last week my good friend Victoria Hinshaw (Of Number One London) was in town and together we visited the Corcoran Gallery of Art.
The Corcoran was founded in 1869 by William Wilson Corcoran. In 1897 it moved to its present location, a beautiful building designed in the Beaux-Arts style by Ernest Flagg.
It has these wonderful bronze lions in front.  The lions were purchased in 1888 from the estate of Bill Holliday, the founder of the Pony Express. They are copies of originals of Antonio Canova.

The gallery had many noteworthy pieces of American Art, but they also had examples from English artists.
A Gainsborough

A Reynolds

A Raeburn

There was also a beautiful room – The Salon Doré, an 18th century French room that was originally part of the home of the Count d'Orsay and his wife, Princess de Croÿ-Molenbais. The Princess died in childbirth and the Count fled to Germany before the French Revolution and died in poverty.
The room was donated to the Corcoran in 1926.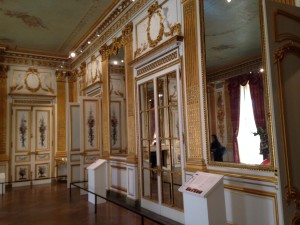 The Corcoran will no longer exist as a privately endowed museum and art school. Because of financial problems, its art school and building will be taken over by GW University and its art will become part of the National Gallery of Art. I feel like I made my visit just in time!
How's the weather your way? We've got snow AGAIN. In Virginia. In March. Unheard-of.
This Sunday my pal Sally MacKenzie returns for an interview and giveaway of Loving Lord Ash.