We often see young ladies at the pianoforte in our books, but musical men appear so infrequently as to make one think that music was strictly for the ladies.  Today, let's take a look at men making music.
To begin, there were musical male members of the Royal Family, and they had a tradition of performing in private: George III's father, Frederick, Prince of Wales was a noted viola da gamba player.  On the left is a painting of him playing the instrument with his sisters at Kew Palace.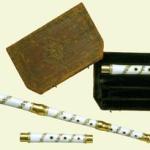 George III was a noted flutist, having received instruction from Carl Friedrich Weidemann, and  was also an harpsichord player. The image to the right is a picture of his transverse flute , now in the Royal Collection.
If you look at Gainsborough portraits, (a little early for our period proper, but still relevant) you will find many men of the gentry class of England in the 18th century, pictured with their musical instruments: for example the portrait of William Woolaston shows him pictured with his flute;he was a landowner in Suffolk (he owned Finborough Hall and also became a local Member of Parliament).
Glee clubs were also very popular during the 18th century and early 19th century, with both the aristocracy and the gentry, not to mention the lower orders. George IV was a member of the Noblemen and Gentleman's catch club, which was originally formed in 1761 at the Thatched House Tavern in St James's Street ,London. These glee and catch clubs tended to be men only institutions, and were very social occasions with simple food /porter etc. served to the participants.
In 1811, Jane Austen writes to her sister:  Eliza is walking out by herself. She has plenty of business on her hands just now, for the day of the party is settled, and drawing near. Above 80 people are invited for next Tuesday evening, and there is to be some very good music — five professionals, three of them glee singers, besides amateurs. Fanny will listen to this. One of the hirelings is a Capital on the harp, from which I expect great pleasure. The foundation of the party was a dinner to Henry Egerton and Henry Walter, but the latter leaves town the day before. I am sorry, as I wished her prejudice to be done away, but should have been more sorry if there had been no invitation.
Henry Austen's apothecary, Charles Haden, was also an accomplished amateur musician. But he did not appear to wish to "perform to strangers" according to this letter from Jane Austen in 1815: But you seem to be under a mistake as to Mr. H. You call him an apothecary. He is no apothecary; he has never been an apothecary; there is not an apothecary in this neighbourhood — the only inconvenience of the situation perhaps — but so it is; we have not a medical man within reach. He is a Haden, nothing but a Haden, a sort of wonderful nondescript creature on two legs, something between a man and an angel, but without the least spice of an apothecary. He is, perhaps, the only person not an apothecary hereabouts. He has never sung to us. He will not sing without a pianoforte accompaniment.
Just a few examples of Georgian and Regency musical men. It would be fun to find more of them in what we read. I'd love to hear more examples.