Former Riskies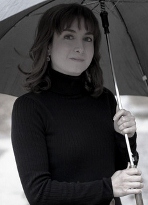 Amanda McCabe/Laurel McKee wrote her first romance at the age of sixteen–a vast historical epic starring all her friends as the characters, written secretly during algebra class (and her parents wondered why math was not her strongest subject…)
She's never since used algebra, but her books have been nominated for many awards, including the RITA Award, the Romantic Times BOOKReviews Reviewers' Choice Award, the Booksellers Best, the National Readers Choice Award, and the Holt Medallion. She lives in Oklahoma with a menagerie of two cats, a Pug, and a very bossy miniature Poodle, along with far too many books.
When not writing or reading, she loves taking dance classes, collecting cheesy travel souvenirs, and watching the Food Network–even though she doesn't cook.
Visit Amanda/Laurel's websites at ammandamccabe.com and ammandamccabe.com/mckee.
---
Carolyn Jewel was born on a moonless night. That darkness was seared into her soul and she became an award winning author of historical and paranormal romance. She has a very dusty car and a Master's degree in English that proves useful at the oddest times. An avid fan of fine chocolate, finer heroines, Bollywood films, and heroism in all forms, she has three cats and a dog. Also a son. One of the cats is his.
Visit Carolyn's website at www.carolynjewel.com.
---
Sandra Schwab started writing her first novel when she was seven years old. Thirty-odd years later, telling stories is still her greatest passion, even though by now she has exchanged her pink fountain pen of old for a black computer keyboard. Since the release of her debut novel in 2005, she has enchanted readers worldwide with her unusual historical romances.
She lives in Frankfurt am Main / Germany with a sketchbook, a sewing machine, and an ever-expanding library.
Visit Sandra's website at www.sandraschwab.com.
---