Amanda's Books
Amanda McCabe Historical Romance ~ Amanda McCabe Regencies ~ Laurel McKee Historical Romance ~ Amanda Carmack Historical Mysteries
Amanda McCabe Historical Romance
Betrayed by His Kiss
In a city of shadows…
Orlando Landucci knows all too well what darkness lies beneath Florence's dazzling splendor. And when his beloved sister is torn from him, he will stop at nothing to avenge her death.
…only a kiss can light up the darkness
But from the moment he lays eyes on innocent Isabella Spinola, something inside him shifts. She is the kin of his sworn enemy, yet he feels compelled to protect her. With every forbidden kiss Orlando's sense of betrayal deepens, so when the time for vengeance comes, will their bond be enough to banish the shadows forever?
Amazon ~ Barnes & Noble ~ Learn more
Running from Scandal (Bancrofts of Barton Park #2)
The past is always hot on your heels…
Emma Bancroft used to pride herself on her sensible nature, but good sense flew out the window during her first Season in London! Her reputation and her belief in true love in tatters, she reluctantly returns home to Barton Park.
David Marton is trying to live a quiet life—until Emma comes sweeping back. With whispers of scandal all about her, he knows she will never be the right woman for him, but sometimes temptation is just too hard to resist….
Amazon ~ Barnes & Noble ~ Learn more
A Very Tudor Christmas (a novella)
England, 1571
A brief but passionate flirtation with the dashing Sir Robert Erroll had Margaret Clifford dreaming they would be wed—until Robert left for the continent without a word, breaking her heart.
Robert never forgot Meg, or gave up hope that she would wait for him to make his fortune. But after three years abroad, he has returned to court to discover a cold, distant woman in place of the innocent maiden he left behind.
Yet Robert can sense the desire that still burns within her. And when a snowstorm forces them to take refuge for the night, he is determined, come Christmas morn, to have melted the ice that has built up around Meg's heart….
Amazon ~ Barnes & Noble ~ Learn more
The Runaway Countess (Bancrofts of Barton Park #1)
In Society's eyes, Hayden Fitzwalter, Earl of Ramsay and Jane Bancroft have the perfect marriage. But what can't be seen are the secrets hidden behind closed doors. Believing Hayden will never renounce his dissolute ways, Jane flees to her family's dilapidated estate in the country.
Years later, Hayden now longs to win back the only woman who has ever touched his heart. But first he has to convince her that this rogue is ready to be tamed….
Amazon ~ Barnes & Noble ~ Learn more
A Stranger at Castonbury
"It's hard for me to admit, but you're not the son I once knew…" The obliterated battlefields of Spain are a world away from the privileged life of James Montague, Earl of Castonbury. Only nurse Catalina Moreno eases the deafening roar of mortar fire—and in a crumbling chapel by candlelight they make their vows. But before the sheets cool from their scorching wedding night Jamie leaves for a brutally dangerous mission…
Two years later, believing her husband dead, Catalina is shocked to see a man who looks and sounds like her Jamie at Castonbury—but where once there was warmth and charm now unflinching torment lies in the gaze of a man she barely recognises…
Amazon ~ Barnes & Noble ~ Learn more
Tarnished Rose of the Court
A dangerous mission at Queen Elizabeth's bidding is Celia Sutton's chance to erase the taint of her brother's treason. Her life is at risk if she's discovered—and so is her heart when she learns her co-conspirator is also her onetime seducer: brooding and mysterious John Brandon!
John can't believe the change in Celia—what's happened to the carefree English rose she once was? Leaving Celia was the only thing to do, but now guilt tears at his soul.
He has to heal the sadness in her past, and he's not above using anything—from expert seduction to royal favors—to achieve his goal.
Amazon ~ Barnes & Noble ~ Learn more
An Improper Duchess (novella)
Melisande, Duchess of Gifford, has enjoyed running wild since surviving her unhappy marriage—but she knows it's only a matter of time before her brother forces her to settle down and be respectable. Determined to make herself free, Melisande decides to escape into ruined exile with an absolutely scandalous affair and leave London forever. But her heart may have other plans when she meets intriguing Lord Grayson Sanbourne….
Amazon ~ Barnes & Noble ~ Learn more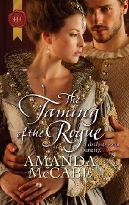 The Taming of the Rogue
Anna Barrett is more comfortable filling tankards at the White Heron Theater than shopping for corsets. Her "take no prisoners" attitude has earned her a tough reputation. Where she was once innocent and naive, now she's vowed never to be ensnared by a man again. Except Robert Alden is not just any man….
Gorgeous, dashing and decidedly reckless, this playwright has left a trail of broken hearts across London. He's also a spy on a dangerous assignment. Anna cannot help getting embroiled in his mission—even if this seemingly untameable rogue is the last person with whom she should become involved….
Amazon ~ Barnes & Noble ~ Learn more
One Wicked Christmas (novella)
London, 1806
Lady Cassandra Osborne is ready to take a new lover to her bed—and knows exactly the man she wants: Sir Ian Chandler, her late husband's rakish best friend. The single kiss they'd shared had made her feel alive again, awakening dark needs she didn't even know she had… though Ian had quickly pulled away. Cassie is sure he doesn't want her, until their reunion at a Christmas house party tempts them to succumb to the desire that has haunted them both….
Amazon ~ Barnes & Noble ~ Learn more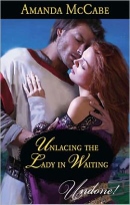 Unlacing the Lady in Waiting (novella)
Scotland, 1561
Lady Helen Frasier thought Highlanders were barbaric—until she shared an intimate encounter with her betrothed, James McKerrigan. Though their families were enemies, the Highland lord roused a surprising passion in Helen. Then she was chosen to become a lady in waiting to the queen, and their engagement was broken.
Now, Helen has returned to Scotland and her jilted lover, who has vowed to take revenge and claim his promised bride….
Amazon ~ Barnes & Noble ~ Learn more
The Girl in the Beaded Mask (novella)
England, 1922
David Carlisle believes no woman would want to marry the broken and isolated man who has returned from the trenches of France. Especially vivacious Lady Louise Hatton, better known as Lulu—the one woman who makes his heart begin to thaw with her bright smile.
What David doesn't realize is that Lulu has been fantasizing about him her whole life. And at a scandalous masked ball, she's determined to show David just how badly she wants him….
Amazon ~ Barnes & Noble ~ Learn more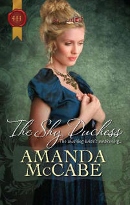 The Shy Duchess
With her golden hair and dazzling emerald eyes, Lady Emily Carroll should have her pick of suitors. Instead, her crippling shyness has earned her the nickname "Ice Princess."
Nicholas, Duke of Manning, isn't looking for a bride, but he won't pass up a stolen kiss at a masked ball.
With her blushes hidden, Emily lets her inhibitions go. Only to find herself betrothed! Now it's her wedding night, and her new husband seems determined to thaw his Ice Princess and reveal her every secret….
Amazon ~ Barnes & Noble ~ Learn more
Regency Christmas Proposals (Anthology)
The Soldier's Christmas Miracle by Gayle Wilson
Wounded soldier Guy Wakefield has finally found the woman who saved his life. Isabella Stowe accepts his gratitude, but it will take more than a kiss under the mistletoe to convince this world-weary widow to accept his proposal….
Snowbound and Seduced by Amanda McCabe
Mary Bassington, Lady Derrington, longs to be the carefree woman she once was. But she gets more than she bargained for this Christmas when she's snowbound with old flame Dominick, Viscount Amesby, who reignites her passion for life—and love!
Christmas at Mulberry Hall by Carole Mortimer
Spending Christmas alone with his unconventional ward pushes the boundaries of propriety—and self-control—too far for Lord Gideon Grayson. So he takes delectably pure Amelia Ashford to Mulberry Hall—but that pesky mistletoe is still all around….
Amazon ~ Barnes & Noble ~ Learn more
To Court, Capture and Conquer (novella)
London, 1589
Lord Edward Hartley plans to get revenge against Sir Thomas Sheldon, the man who destroyed his brother, by stealing Sheldon's intended bride. Standing in his way is Lady Elizabeth Gilbert, the girl's chaperone and a reputed paragon of virtue.
Yet Edward cannot help but notice the sensual longing in her eyes. He is sure that her cool exterior conceals a passion waiting to be set free. And when Edward kidnaps Elizabeth by mistake, neither can resist unleashing their desire….
Amazon ~ Barnes & Noble ~ Learn more
To Kiss A Count (Chase Muses Book 3)
Leaving exotic Sicily behind, and with it her heart, Thalia Chase returns to England to visit her sister–and to try to forget the enigmatic Italian Count di Fabrizzi. She's shocked to suddenly see him in Bath–and in the company of a suspected thief!
Marco, Count di Fabrizzi, is on a dangerous mission and doesn't need the beautiful Lady Chase hindering his progress. But she is intent on adventure–so what is a gentleman to do when a lady is so insistent, and so very passionate?
Amazon ~ Barnes & Noble ~ Learn more
To Deceive a Duke (Chase Muses Book 2)
Clio Chase is hoping for a quiet season in Sicily with her family. There, she can forget all about the enigmatic Duke of Averton and the strange effect he has on her. That is until he unexpectedly arrives, shattering her peace and warning her of trouble….
The unsettling attraction is still strong between them, despite the secrets they hide. But, as the unknown threat grows, they are thrown together in the most intimate of ways. Clio knows there is only so long she can resist her mysterious duke!
Amazon ~ Barnes & Noble ~ Learn more
To Catch a Rogue (Chase Muses Book 1)
When antiquities begin to go missing from London drawing rooms Miss Calliope Chase sets out to restore order. The thief must be a well-connected member of the Ton. And she doesn't need to look much further than Cameron de Vere, Earl of Westwood, for a suspect.
What she doesn't realize is that her determined pursuit of a criminal is beginning to look like a budding romance. Until Cameron kisses her, and her ordered life is thrown into appalling confusion!
Amazon ~ Barnes & Noble ~ Learn more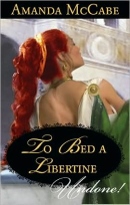 To Bed a Libertine (novella)
Tired of seasons with boring socialites, Lord Tristan Carlyle has given up his life as a libertine to become an artist. Inspiration eludes him…until he meets the alluring Contessa de Erato, who awakens a passion not even this former rake has felt before.
But the "Contessa" has a secret – she is really Erato, muse of erotic poetry. Although she came to England to help other women find love, one night of ecstasy with Tristan shows Erato the kind of pleasure she never thought she would experience herself–and now wants to savor forever….
A prequel to The Chase Muses miniseries.
Amazon ~ Barnes & Noble ~ Learn more
The Maid's Lover (novella)
Anne Percy lived for her secret trysts with Robert, Viscount Langley, heir to a wealthy earldom and star of Queen Elizabeth's court. Only then could she forget her life as a poor orphan at the mercy of her noble relatives and lose herself in the delights of his body. Every time they came together, it was just as passionate and wonderful as their first encounter. But even though Robert seemed to want her as much as she craved him, marriage appeared to be one thing they couldn't share.
Now the lovers are reunited at the Queen's Christmas feast–where Robert vows to show Anne they should never be apart…and to give her a very sensual Christmas Eve surprise.
Amazon ~ Barnes & Noble ~ Learn more
The Winter Queen
As Queen Elizabeth's lady-in-waiting, innocent Lady Rosamund is unprepared for the temptations of Court. She is swept up in the festivities of the yuletide season and, as seduction perfumes the air, Rosamund is drawn to darkly enticing Anton Gustavson….
With the coming of the glittering Frost Fair, they are tangled in a web of forbidden desire and dangerous secrets. For in this time of desperate plots and intrigues, Anton is more than just a handsome suitor—he may have endangered the life of the woman he is learning to love….
Amazon ~ Barnes & Noble ~ Learn more
The Diamonds of Wellbourne Manor (Anthology)
Justine and the Noble Viscount by Diane Gaston
Guardian to the unconventional and newly orphaned Fitzmannings is not a role that brooding Gerald Brenner relishes. But Justine, the illegitimate daughter who strives to hide her shame, calls powerfully to something deep within him….
Annalise and the Scandalous Rake by Deb Marlowe
House party guest Ned Milford can see the inner passion and beauty that Annalise Fitzmanning hides. But how close should they become when his reason for being at Welbourne Manor would prompt a society scandal, not a society marriage!
Charlotte and the Wicked Lord by Amanda McCabe
Charlotte may be the youngest Fitzmanning girl, but she knows her own mind–and she wants Lord Andrew Bassington! Drew requires an eminently proper bride, something free-spirited Charlotte has never been. So how can she make him see the beautiful woman she has become…?
Amazon ~ Barnes & Noble ~ Learn more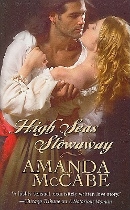 High Seas Stowaway
Pirates, passion and danger on the high seas!
Balthazar Grattiano, captain of the infamous ship Calypso and renowned seducer of women, has just walked into the one tavern in all of Hispanialo he should have avoided. For Bianca Simonetti, his sworn enemy, is the owner–and she has vengeance on her mind.
But before she can take her revenge she is captured by this rogue's kiss. Her only chance for retribution is to stow away on his ship for a passionate adventure that will either kill them–or bring them together once and for all!
Amazon ~ Barnes & Noble ~ Learn more
Shipwrecked and Seduced (novella)
Maria Gonzales had hoped for a fresh start in the New World as a contessa's servant, far away from her old life as a tavern maid in Seville. That hope is shattered when a storm destroys the ship off the coast of Hispaniola. The lone survivor, Maria sees no harm in pretending to be the contessa and enjoying a little luxury for once in her life…especially if it brings her closer to the irresistibly attractive governor's aid, Carlos de Alameda.
Dedicated to his career and to regaining his family's honor, Carlos has gone too long without the comforts of a woman. He instantly feels a powerful connection to the beautiful young survivor…and an overwhelming lust. Yet he also harbors suspicions about the contessa. First he will explore her body…then he'll uncover the truth…
Amazon ~ Barnes & Noble ~ Learn more
A Sinful Alliance
The baseborn daughter of a courtesan and a lord, Marguerite was forced to fend for herself in the dangerous world of the French nobility–as the king's most feared spy.
Sent to the court of King Henry of England, Marguerite found polite words and flattery concealed dark passions. Her only friend was her old enemy, the sensually tempting Nicolai Ostrovsky. And their sinful alliance seemed set to turn her from old loyalties to new desires!
Amazon ~ Banres & Noble ~ Learn more
A Notorious Woman
Venice belongs to the mysteries of night, to darkness and deep waters. And so does Julietta Bassano. The beautiful perfumer hides her secrets from the light of day, selling rose water and essence of violet to elegant ladies rather than taking her rightful place in society.
Then enters Marc Antonio Velasquez–a fierce sea warrior determined to claim her. Seduced by his powerful masculinity, Julietta begins to let down her defenses.
But in the city of masks, plots spiral and form around Marc and Julietta–plots that will endanger their lives and their growing love….
Amazon ~ Barnes & Noble ~ Learn more
Lady Midnight
The daughter of an infamous courtesan, Katerina has lost everyone she loves in a tempest off the coast of Italy. Now, claiming to be a governess, she finds herself falling for a handsome widower. But just as they give in to the desire that knows no words, a stealthy enemy plots his revenge-and their newborn passion is tested.
Amazon ~ Barnes & Noble ~ Learn more
Amanda McCabe Regencies
A Partridge in a Pear Tree (a novella)
Previously published in the anthology A Regency Christmas
Spend the holidays in Regency England! Seeking an heir to her fortune, a widow challenges her family to a wild holiday scavenger hunt in the novella "A Partridge in a Pear Tree"–and two people find a lasting love seeking the Twelve Days of Christmas…
"Solid characters, a family secret or two, and some clever writing make this the best story in the collection" – All About Romance
National Reader's Choice Award Finalist–Best Novella
The Errant Earl
Julia has never met her stepbrother, Marcus Hadley, but she's heard all sorts of nasty rumors about him. So imagine her surprise when he shows up at her home – and turns out to be the man of her dreams.
Amazon ~ Barnes & Noble ~ Learn more
Also see Rogue Grooms
Widowed artist, Georgina Beaumont travels from Italy to London to visit her closest friend. While there, Alexander Kenton, the Duke of Wayland, rescues her dog from drowning. Georgina and the Duke are immediately attracted to one another. But love never is as easy as it should be.
Amazon ~ Barnes & Noble ~ Learn more
Also see Improper Ladies
As the anonymous author of a popular book on etiquette, Rosalind Chase can count every rule that handsome poet Lord Morley breaks. But when she cannot stop thinking about him, Rosie begins to wonder if his rules just might be the best rules for love.
Amazon ~ Barnes & Noble ~ Learn more
Also see Scandalous Brides
Carmen believed her new English husband to be dead after the terrible battle which occurred soon after their wedding ceremony. Only the knowledge that she had killed her tormentor and escaped from the French with a precious new life growing inside of her keeps her from giving in to her grief. Six years later, Carmen travels to England with her lovely blond daughter to discover the identity of the blackmailer who is writing terrible lies about her and her part in that battle. Not only is her husband alive, he believes the lies that have been written. How can she trust him with the knowledge of their daughter, when he believes her to be a traitor and a whore?
Amazon ~ Barnes & Noble ~ Learn more
Also see Scandalous Brides
Lady Elizabeth Everdean fled from England to Italy in wake of a terrifying accident. Now, Sir Nicholas Hollingsworth has been enlisted by Elizabeth's brother to track her down. But will the unrepentant rake or the rebellious runaway win the day?
Amazon ~ Barnes & Noble ~ Learn more
Improper Ladies
Two classic regencies together for the first time
The Golden Feather
Young Caroline Aldritch is shocked to learn her late husband's only legacy to her is a notorious gaming establishment-where she must hide her face from all, including the dashing Lord Lyndon, who's determined to unmask the secretive beauty…
The Rules of Love
Rosalind Chase must endure her brother's friendship with the notorious rake Lord Morley. But when she can't stop thinking of the insufferable libertine, Rosalind wonders if his ways just might be the path to love…
Amazon ~ Barnes & Noble ~ Learn more
Rogue Grooms
Together for the first time, two of Amanda McCabe's most captivating regency classics… Lady Rogue and The Star of India
In Lady Rogue, Georgina Beaumont is a fiery spirit who believes that she doesn't need a man to make her happy. For Alexander Kenton, the Duke of Wayland, this is startling news since he's fallen for Georgina, and needs her hand to regain his place in society, if she'll take it…
The Star of India is a jewel that's been kept with Lady Emily Kenton since her childhood friend, the Earl of Darlinghurst, left for India at age eight. Will the longing they've harbored for all these years fall to ruin when he learns of the terrible secret she bears regarding the jewels?
Amazon ~ Barnes & Noble ~ Learn more
Scandalous Brides
Together for the first time…
Two beloved regency classics
In Scandal in Venice, Lady Elizabeth Everdean flees to Italy after the man who was to be her husband is killed. Sir Nicholas Hollingsworth is sent by her brother to capture the runaway, but it is this rake's heart that is captured by Elizabeth…
Carmen Montero falls in love with Peter Everdean, the Earl of Clifton, on a Spanish battlefield in The Spanish Bride. While each believes the other has been killed during the war, coincidence pulls these souls back together-but pride and dark secrets try to diminish their joy. Will love be victorious?
Amazon ~ Barnes & Noble ~ Learn more
Spirited Brides
In this beautiful omnibus, two heartwarming stories of magic and matrimony from popular Signet Regency author Amanda McCabe are brought together for the first time.
One Touch of Magic
Recently widowed, Sarah, Lady Iverson, forges ahead with her late husband's work—excavating an ancient Viking village rumored to be full of cursed treasure. But she never imagined that the current land's owner, Miles Rutledge, would be an even greater treasure to cherish…
A Loving Spirit
When Cassie Richards visits his haunted castle, she bewitches the bookish Earl of Royce. But for the two to embrace their love, they're going to need a little spiritual guidance…
Amazon ~ Barnes & Noble ~ Learn more
A Homespun Regency Christmas
Four previously published Signet Regency Christmas novellas together for the first time in a charming new anthology.
An Object of Charity by Carla Kelly
The Wexford Carol by Emma Jensen
Mistletoe and Folly by Sandra Heath
Upon a Midnight Clear by Amanda McCabe
Amazon ~ Barnes & Noble ~ Learn more
Laurel McKee Historical Romance
Two Sinful Secrets (Scandalous St. Claires Book 2)
A hundred years has passed since the bitter rivalry between the St. Claires and the Huntingtons began. But in London, the feud goes on…
Lady Sophia Huntington isn't what she appears to be. Born into a noble family, the impulsive, wild-hearted beauty has fallen on difficult times. Banished from her home, Sophia dreams of the day she can finally win her father's forgiveness and return to London. Until the sudden appearance of a suitor from the scandalous St. Claire family threatens to reveal her darkest secrets…
Dominic St. Claire vows to exact revenge upon the Huntingtons, who destroyed his family's fortune generations ago. His perfect target is the lovely but proud Lady Sophia. After using her to discover the Huntingtons' financial secrets, he will cause a great scandal by eloping-and then abandoning his bride. But his plot soon unravels when he finds his own heart ensnared-in a trap not of his own making.
Amazon ~ Barnes & Noble ~ Learn more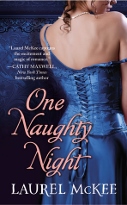 One Naughty Night(Scandalous St. Claires Book 1)
Lily St. Claire will do anything for the family that saved her from the streets.  With their support, the young widow has become the hostess of The Devil's Fancy, London's most exclusive gaming den.  She's determined to restore the St. Claire family fortune, lost a century before to the despised Huntington clan.  But a ghost from her past may be her ultimate undoing…
The son a a duke, Lord Aidan Huntington is handsome and wealthy, with a taste for adventure and a reputation for wickedness.  A gambler and a rake, Aidan can't resist a seductive woman with secrets–but one naughty night with Lily leaves him wanting more.  As Lily is drawn into London's dark underworld by an old enemy, Aidan will risk everything to save the woman who has awakened his deepest desires…
Amazon ~ Barnes & Noble ~ Learn more
Lady of Seduction (Daughters of Erin Book 3)
It's a mad, ill-advised journey that leads the usually sensible Lady Caroline Blacknall to the legendary isle of Muirin Inish, off the windswept coast of Ireland. Even so, she doesn't expect to find herself shipwrecked and then rescued by a man she believed she would never see again. A man who, long ago, held her life in his hands . . . and with it, her heart.
Reformed rake Sir Grant Dunmore knew he could never forget the beautiful woman he once endangered nor will he ever forgive himself. But history seems doomed to repeat itself, for as long as Caroline stays on the island, she is trapped in a secret plot that could forever free Ireland-or turn deadly for all. And yet, now that she is in his arms again, how can he dream of ever letting her go?
Amazon ~ Barnes & Noble ~ Learn more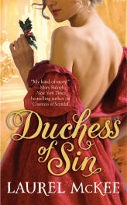 Duchess of Sin (Daughters of Erin Book 2)
Blonde and beautiful Lady Anna Blacknall is in the mood for mischief. Entering Dublin's most notorious den of vice, she finds herself in the arms of a mysterious, emerald-eyed Irishman. And although he is masked, his tender kiss is hauntingly familiar.
Conlan McTeer, Duke of Adair, has come to Dublin to fight for a free Ireland. But he's suddenly reunited with the young Englishwoman who had once claimed his heart, and his passion turns from politics to pleasure. When their sizzling encounter brings danger to Anna's door, she must decide where her loyalties lie-and quickly. For someone will do whatever it takes to destroy Conlan . . . and anyone he dares to love.
Amazon ~ Barnes & Noble ~ Learn more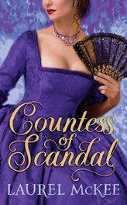 Countess of Scandal (Daughters of Erin Book 1)
As children, Eliza Blacknall and William Denton ran wild over the fields of southern Ireland and swore they would be friends forever. Then fate took Will away to England, while Eliza stayed behind to become a proper Irish countess.
Years later, Will finally makes his way home-as an English soldier sent to crush the Irish uprising. When he spies the lovely Eliza, he is captivated by the passionate woman she has become. But Eliza's passions have led her to join the Irish rebel cause, and Will and Eliza now find themselves on opposite sides of a dangerous conflict.
When Ireland explodes in bloody rebellion, Will's regiment is ordered to the front lines, and he is forced to choose between his duty to the English king and his love for Eliza and their Irish homeland.
Amazon ~ Barnes & Noble ~ Learn more
Amanda Carmack Historical Mysteries
Murder at Hatfield House
1558. Kate Haywood, a simple musician in the employ of a princess, will find herself involved in games of crowns, while trying to solve the murder of the Queen's envoy…
England is in tumult under the rule of Queen Mary and her Spanish husband. Under house arrest at Hatfield House, the young Princess Elizabeth is the country's greatest hope. Far from court intrigues, Elizabeth finds solace in simple things: the quiet countryside and peaceful recreation, including the music of her chief musician and his daughter, Kate Haywood.
But Kate will prove herself most valuable, when an envoy of the Queen—sent to flush out heretics in the princess's household—is found dead on the grounds of Hatfield House. Acting as Elizabeth's eyes and ears, Kate is sent out on the trail of a killer whose mission could destroy her family, friends—and the future of England.
Amazon ~ Barnes & Noble ~ Learn more