Carolyn's Books
Historical Romance ~ Paranormal Romance
Historical Romance
The Duke's Arms is an undistinguished little inn in the tiny village of Hopewell-on-Lyft. But one Christmas season sees both inn and village seething with adventure, intrigue, rabbits, and, above all, love as four couples find Yuletide happiness.
In The Duke's Arms by Carolyn Jewel
What's a Duke to do when he's made an awful impression on the love of his life?
The Duke of Oxthorpe lost his intensely guarded heart to Miss Edith Clay when Edith's
rich cousin sought to attach the duke's marital interest. So smitten is Oxthorpe with the former poor relation that he's gone through intermediaries to sell Edith a property adjoining the ducal seat.
Edith doesn't much care for the haughty duke, but as Christmas approaches, Oxthorpe reveals himself to be reserved rather than arrogant, considerate, and—blame the mistletoe!—an accomplished kisser. Will Edith hold Oxthorpe's earlier behavior against him, or will she learn that the best holiday gifts can be the most unexpected?
This set also includes novellas by Shana Galen, Miranda Neville, and Grace Burrowes.
All the widowed Lucy Sinclair Wilcott wants is to save enough money to move to a cottage of her own and keep her younger sister safe from the consequences of their father's poor judgment. No one is more aware than she how thoroughly her first marriage to a prizefighter ruined her. She could not remarry if she wanted to. Then the Marquess of Thrale comes to visit and long-absent feelings of desire surge back.
Everything Lord Thrale believed about the beautiful Mrs. Wilcott is a wrong. The very last woman he thought he was interested in proves to be a brilliant, amusing, arousing woman of deep honor who is everything he wants in a lover, for the rest of his life.
Amazon ~ Barnes & Noble ~ Learn more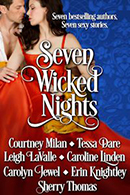 Seven Wicked Nights (anthology of sexy novellas)
Seven bestselling historical romance authors offer seven sexy stories featuring dukes, lords, rakes, scoundrels… and the unforgettable heroines who bring them to their knees. These stories range in length from long novellas to delectable little bites.
Amazon ~ Barnes & Noble ~ Learn more
One Starlit Night (novella)
Ten years away from Doyle's Grange isn't quite long enough for Viscount Northword to forget Portia Temple, or their passionate adolescent affair. Portia, however, is about to marry another man. Northword tells himself it is wrong to interfere in her life at this late hour, but interfere he cannot help, with his words, his body, and the truths of his heart.
Amazon ~ Barnes & Noble ~ Learn more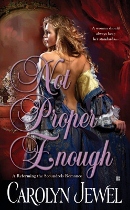 Not Proper Enough (Seducing the Scoundrels Book 2)
The Marquess of Fenris has loved Lady Eugenia from the day he first set eyes on her. Five years ago, pride caused him to earn her enmity. Now she's widowed, and he's determined to make amends and win her heart. But with their near explosive attraction, can he resist his desire long enough to court her properly?
After the death of her beloved husband, Lady Eugenia Bryant has come to London to build a new life. Despite the gift of a medallion said to have the power to unite the wearer with her perfect match, Eugenia believes she won't love again. And yet, amid the social whirl of chaperoning a young friend through her first Season, she finds a second chance at happiness.
Unfortunately, the Marquess of Fenris threatens her newfound peace. Eugenia dislikes the man, but the handsome and wealthy heir to a dukedom is more charming than he has a right to be. Constantly underfoot, the rogue disturbs her heart, alternately delighting and scandalizing her. And when their relationship takes a highly improper turn, Eugenia must decide if the wrong man isn't the right one after all.
Amazon ~ Barnes & Noble ~ Learn more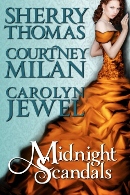 Midnight Scandals (anthology)
Welcome to Doyle's Grange, a charming house near the hills of Exmoor, where the garden is beautiful in every season, and the residents are respectable year-round.
Except when the clock strikes midnight…
One Starlit Night by Carolyn Jewel
Ten years away from Doyle's Grange isn't quite long enough for Viscount Northword to forget Portia Temple, or their passionate adolescent affair. Portia, however, is about to marry another man. Northword tells himself it is wrong to interfere in her life at this late hour, but interfere he cannot help, with his words, his body, and the truths of his heart.
What Happened at Midnight by Courtney Milan
Fleeing the consequences of her father's embezzlement, Mary Chartley takes a position as a lady's companion, only to find herself a virtual prisoner at Doyle's Grange, her employer's house. And then the nightmare truly begins: the man she loves, who also happens to be the man from whom her father stole, shows up at her door seeking recompense. And not merely in pound sterling…
A Dance in Moonlight by Sherry Thomas
After losing her childhood sweetheart to another woman, Isabelle Englewood is heartsick. But then something remarkable happens: Upon arriving at Doyle's Grange, her new home, she meets Ralston Fitzwilliam, who looks almost exactly like the man she cannot have. Come late at night, she tells him, so I can make love to you pretending that you are the one I love.
Little does she realize what she is about to unleash…
Amazon ~ Barnes & Noble ~ Learn more
Not Wicked Enough (Seducing the Scoundrels Book 1)
When Lily Wellstone heads to the Bitterward Estate to comfort her widowed friend Eugenia, she certainly does not have romance in mind. In fact the playful but level-headed Lily is amused to no end when, en route, a gypsy gifts her with a beautiful medallion, claiming it will ensnare the romantic desires of a stranger.
But Fate has other plans in the form of Eugenia's ruggedly handsome brother, the Duke of Mountjoy. One day at Bitterward and Lily can't deny the sizzling attraction between her and the roguish duke. Nothing can come of it, of course. She's not looking for entanglements and he's practically engaged. But whether it's her outgoing nature and the duke's outlandish ways sparking off one another; or the mysterious gypsy medallion working "magic"—hearts are stirring in the most unexpected and wicked ways…
Amazon ~ Barnes & Noble ~ Learn more
The Pennhyll Affair
Captain Sebastian Alexander was The Spare, but as the younger son he inherited more than a title after his brother's murder. He acquired a family estate with dark secrets that threatened his life. He took on a quest to avenge his brother. But most troublesome of all, he found a red haired beauty who was either a guileless witness or a ruthless seductress.
Olivia Willow was missing three days from her life. She'd been a guest at Pennhyll the night of the murder, but now she could recall nothing. The new earl was determined to help her remember. He charmed, he beguiled — he matched wits with her. And soon, instead of trading barbs they shared kisses, and instead of seeking out the past, they were fighting for a future.
Amazon ~ Barnes & Noble ~ Learn more
Nicholas Villines is the heir assumptive to a viscount. His father left him in dire straits, but he's managed to recover the family fortunes and re-enter society. His childhood friend Elizabeth is now in London, hoping to make a modest marriage, as she is a woman of very modest means. Not so her beautiful (and rich) cousin Amelia. Every agrees that Nicolas and Amelia would be a perfect match. As Elizabeth and Nicholas rekindle their friendship, society can talk of little but The Mayfair Thief, a mysterious and cunning person who has made off with a fortune in jewels and other valuable items. Just who is this mysterious thief, and has Elizabeth really guessed his identity?
Nicholas agrees that Amelia would be the perfect wife for him, but he can't stop thinking about Elizabeth and the beautiful woman she's become. Will he accept his feelings for her before it's too late or will she marry his best friend?
Amazon ~ Barnes & Noble ~ Learn more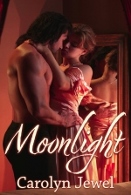 Moonlight (short story)
Alec Henry McFall, third earl of Dane, is in love with Philippa, a woman he's known his entire life. Unforunately, she's always treated him like a little brother. Can Alec stop the widowed Philippa from marrying the wrong man?
The Mammoth Book of Regency Romance includes stories from some really wonderful authors. If you like Regency-set historical romance, this should be a good book to pick up.
Amazon ~ Barnes & Noble ~ Learn more
Lord Ruin
The Duke of Sin
The Duke of Cynssyr didn't believe in love. He planned to marry for beauty. But a night of unforgettable passion left him a changed man — a man tied to a bespectacled spinster. Anne Sinclair's long legs drove him wild with desire, and her quick wit challenged his mind. Ruined for any other, the notorious rake had only one choice; to court his wife. To win her condfidence, however, nothing less than his love would do.
The Old Maid of Bartley Green
Anne Sinclair had sworn to protect her sister from the infamous Lord Ruin. Yet she never expected to sacrifice her own virtue. Forced to give the rogue her hand in marriage, she vowed never to relinquish her heart. But Ruan worshipped her body and valued her intelligence, making Anne long to succumb to the ultimate temptation: falling for her husband.
Amazon ~ Barnes & Noble ~ Learn more
Indiscreet
Marrying for love can be a challenge…
Edward, Marquess of Foye, would have been happy to continue his life as an unmarried gentleman rake. His brother's death changed everything. As the last of his line, Edward must now marry. Heart already broken by a capricious young girl, he vows to find an older woman-seasoned, mature…and no threat to his feelings.
Falling in love can be dangerous…
Sabine Godard was educated by an Oxford don beyond what was proper. Her studies became her salvation after her past left her unwilling to accept the touch of any man. Though she never intended to fall in love, when she and Edward meet, passion defies logic. Together they explore temptation and sensuality, healing old wounds. . .until events require them to risk everything for their love.
Amazon ~ Barnes & Noble ~ Learn more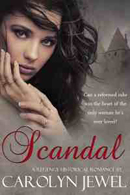 Scandal
The earl of Banallt is no stranger to scandal. But when he meets Sophie Evans, the young wife of a fellow libertine, even he is shocked by his reaction. This unconventional and intelligent woman proves to be far more than an amusing distraction—she threatens to drive him to distraction. Unlike the women who usually fall at Banallt's feet, and into his bed, Sophie refuses to be seduced. And soon Banallt desires her more than ever—and for more than an illicit affair.
Years later, the widowed Sophie is free, and Banallt is determined to win the woman he still loves. Unfortunately, she doesn't believe his declaration of love and chivalrous offer of marriage– her heart has already been broken by her scoundrel of a husband. And yet, Sophie is tempted to indulge in the torrid affair she's always fantasized about. Caught between her logical mind and her long-denied desire, Sophie must thwart Banallt's seduction– or risk being consumed by the one man she should avoid at all costs…
2010 RITA Finalist for Best Regency Historical
Amazon ~ Barnes & Noble ~ Learn more
Paranormal Romance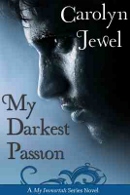 My Darkest Passion (My Immortals Book 5)
Addison O'Henry has no idea magic is real or that the fragile peace between the magekind—humans who can use magic—and demons is about to shatter. All that changes the day she's abducted by one of the magekind. After a ritual murder goes horribly wrong, Addison ends up with demon-sourced magic that nearly kills her. But for the intervention of demon Harsh Marit, she might not have survived. Though Harsh does what he can to help her return to what used to be normal, they both know her life will never be the same.
With corrupt mages threatening them both, her honor requires her to help Harsh and the demon warlord he serves. If that means accepting her power and the high rank it confers on her, so be it. Now her once distant relationship with Harsh turns hot and immediate as the two of them explore the dark passion of a forbidden relationship.
Amazon ~ Barnes & Noble ~ Learn more
Free Fall (novella)
Attorney Lys Fensic has spent her life controlling a psychic power that kills. Her ability to lock herself down falls apart when her ex, a mage, sends enslaved demons to kill her. In a psychic free fall, she turns to tough guy Telos Khūnbish for help. But is he a mage as she's always suspected or is he something far more dangerous?
Free Fall is set in the My Immortals series world where demons and magic-using humans called the magekind are not quite getting along. Most people have no idea they're living in what amounts to a magical war-zone. Free Fall is based on the short story Future Tense but is considerably expanded and includes scenes that were censored from the short story. The novella is about 35,000 words (130 pages).
Amazon ~ Barnes & Noble ~ Learn more
My Dangerous Pleasure (My Immortals Book 4)
TEMPT THE DARKNESS
Strong-willed and independent, Paisley Nichols is used to taking care of herself. But when an insane mage begins tracking her every move and threatening her at every turn, she has no choice but to put her life in the hands of a demon.
RISK THE PASSION
Burned by betrayal, demon assassin Iskander won't get too close to anyone. He spends his days serving his warlord and his nights indulging in carnal pleasures…and that's exactly how he likes it. But when a mage wages a wrenching psychic assault on his beautiful tenant Paisley, Iskander must defend her. Under his protection, she will be drawn irresistibly into his life and learn about her own mysterious powers. And not a moment too soon. The mage haunting her isn't acting alone—and he won't rest until he destroys both Paisley and Iskander.
Amazon ~ Barnes & Noble ~ Learn more
The King's Dragon (short story)
The King's Dragon is based on a character who wouldn't leave me alone; a damaged man who has no business being a hero, but is. For the longest time, I didn't know what to do with him, until I put him in this world. The setting comes from a Fantasy series I plan to write. The first book is all mapped out– to the extent this seat-of-the-pants writer can plan anything in advance. There is romance, adventure, men in high boots, magic, politics and, also, hot elves.
Amazon ~ Barnes & Noble ~ Learn more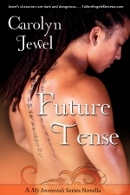 Future Tense (short story)
See also Free Fall
Lys is an attorney for a San Francisco law firm where she litigates high stakes computer hacking and corporate espionage cases. Her go-to expert witness for these cases is Telos Kunbish who may not always operate on the right side of the law. He's a big, dangerous looking guy and after she leaves her abusive boyfriend, she needs someone just like him to escort her while she gets the rest of her things from the house. Only Lys isn't quite what she seems, her ex-boyfriend is a mage who wants her dead and Telos is a demon. Uh oh.
This is an expanded version of the short story, with the sex scenes restored and a considerably deeper plot, as you would expect with the addition of several thousand more words.
Amazon ~ Barnes & Noble ~ Learn more
My Immortal Assassin (My Immortals Book 3)
Revenge. It's all Grayson Spencer wants. Christophe dit Menart, a human with dark magical powers, destroyed the life she loved. She wants the pleasure of killing him, no matter the cost to her. If not for Durian, a dangerously sexy demon fiend charged with keeping Christophe alive, she would have succeeded, too. Now, she's certain all hope is gone. But he has a plan and an offer she can't resist…
Durian has spent his life as a trained and sanctioned assassin. His duty: to enforce the laws against demons harming humans. He's always prided himself on staying out of the fray, carrying out his orders and honoring his fealty to his warlord, but never getting attached. Never until Grayson, a spunky and determined woman clearly gifted with magic herself. He convinces her to swear fealty to him so he can protect her and teach her to use her magic to taste the revenge she so desperately wants.
They're soon bound together in a forbidden desire—a dangerous passion that calls into question Durian's oath of loyalty to his warlord. When he refuses to return her to Christophe, his disobedience threatens to inflame the tumultuous war between demons and the magekind. Can they—and their love—survive?
Amazon ~ Barnes & Noble ~ Learn more
My Forbidden Desire (My Immortals Book 2)
TORN BETWEEN…
Alexandrine Marit is a witch in mortal danager. An evil mage craves the powerful, mysterious talisman that supplies her magic, and the only person who can keep her alive is a dark and dangerous fiend called Xia. With his fierce animosity toward witches, he's hardly the ideal bodyguard. Yet as days turn into nights, she can't deny the white-hot passion between them.
DESIRE AND TEMPTATION…
Xia hates witches. They enslave and mercilessly kill his kind. But he's been ordered to protect Alexandrine, who, to his surprise, has a spirit he admires and a body he longs to possess. With the mage and his henchmen closing in, Alexandrine and her protector must trust the passion that can unite them… or risk losing everything to the enemies who can destroy them both.
Amazon ~ Barnes & Noble ~ Learn more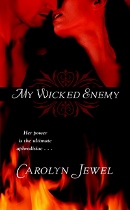 My Wicked Enemy (My Immortals Book 1)
A DESIRE THAT CAN'T BE CONTROLLED…
Carson Phillips is a witch on the run. For years, the notorious mage Alvaro Magellan has held her as his psychological prisoner. But once Carson gets a glimpse of the true extent of his evil, she flees Magellan's mansion–stealing a stone talisman of unimaginable power on the way. Her only hope for survival is a demon who ignites a voracious hunger in her she can't deny, a longing she cannot resist…
A HUNGER THAT CAN'T BE SATED…
Nikodemus is a warlord with a mission: Kill Magellan and his green-eyed witch at any cost. But when he meets the desperate Carson, the pull of her magic takes his breath away. He's not sure he can trust this tantalizing woman–she is his enemy–and less sure he can keep his hands off her. But Magellan will stop at nothing to reclaim what belongs to him. Can Nikodemus save Carson before his desire for her destroys then both?
Amazon ~ Barnes & Noble ~ Learn more
A Darker Crimson
Long ago the portal was sealed and Los Angeles — Now Crimson City — rid itself of demons for eternity. Or so Claudia Donovan believed. With the city's other "paranormals" more active than ever, and the treaty between humans, vampires and werewolves all but dissolved, she and the rest of the CCPD had enough to handle.
But now her daughter has been kidnapped and she's learned that demons still exist — and they they are plotting. She herself is caught in a dark ritual and must go to the creatures' shadowy world. To whom can she turn for help? The vampire Tiberiu Khorza, whose eyes promise death but whose lips taste of eternity: does she dare trust him? Or does salvation lie with the powerful Lath, he who inspires lust beyond name? Thirst, bitterness, despair — on the plane of Orcus, all these things await. But just as surely, beyond that portal are Claudia's daughter, victory and true love. And her first taste of…
A Darker Crimson

Amazon ~ Barnes & Noble ~ Learn more
DX (novella from the anthology Shards of Crimson
It's been said there's no such thing as quiet here. Ever since the metropolis first became home to paranormals, discord was named queen. But who will be her king—vampires, werewolves, demons or men? Pacts have come and gone, all in secret. But one thing remains sure: From the soaring vampire high rises to the werewolves' labyrinth, and even on the infernal plane of Orcus, this land is a battleground and conflict is eternal.
Yet there are those who join together— strangers, enemies, lovers. Here, one silken caress can be deadlier than a bullet, but some still know joy. For darkness can become light, and in one sharp instant pain can become ecstasy, and hatred, love.
Amazon ~ Barnes & Noble ~ Learn more