Janet's Books
Jane Austen Vampires ~ Raucous Regencies ~ Hot Historicals ~ Anthologies ~ Contemporary Erotic Romance
Jane Austen Vampires
Jane Austen: Blood Persuasion
It is 1810, and the Damned are out of favor—banished from polite society. Jane Austen's old undead friends have become new neighbors, raising hell in her tranquil village just in time to interrupt Jane's work on what will be her masterpiece. Suddenly Jane's niece is flirting dangerously with vampires, and a formerly respectable spinster friend has discovered the forbidden joys of intimate congress with the Damned (and is borrowing Jane's precious silk stockings for her assignations). Writing is simply impossible now, with murderous creatures prowling the village's once-peaceful lanes. And with the return of her vampire characteristics, a civil war looming between factions of the Damned, and a former lover who intends to spend eternity blaming her for his broken heart, Jane is facing a very busy year indeed.
Amazon ~ Barnes & Noble ~ Learn more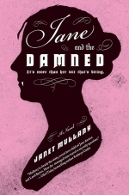 Jane and the Damned
Jane Austen
Novelist . . . gentlewoman . . . Damned, Fanged, and Dangerous to know.
Aspiring writer Jane Austen knows that respectable young ladies like herself are supposed to shun the Damned—the beautiful, fashionable, exquisitely seductive vampires who are all the rage in Georgian England in 1797. So when an innocent (she believes) flirtation results in her being turned—by an absolute cad of a bloodsucker—she acquiesces to her family's wishes and departs for Bath to take the waters, the only known cure.
But what she encounters there is completely unexpected: perilous jealousies and further betrayals, a new friendship and a possible love. Yet all that must be put aside when the warring French invade unsuspecting Bath—and the streets run red with good English blood. Suddenly only the staunchly British Damned can defend the nation they love . . . with Jane Austen leading the charge at the battle's forefront.
Amazon ~ Barnes & Noble ~ Learn more
Raucous Regencies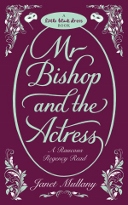 Mr. Bishop and the Actress
What could be more important than a lady's reputation?Although initially alarmed by their unconventional ways, strait-laced Harry Bishop is content in the service of Lord Shad and his family. But when he is sent to London to rescue Shad's wayward relation from debt and self-destruction, he also has the dubious honor of dealing with the man's illicit lover – troublesome actress Sophie Wallace.A man of dignity and decorum, Mr Bishop is desperate to disassociate himself from the scandalous Sophie. Unfortunately, avoiding her proves harder than he could ever have imagined and soon she's causing him all kinds of bother…
Amazon ~ Barnes & Noble ~ Learn more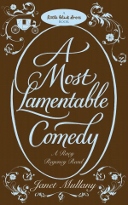 A Most Lamentable Comedy
1822, England. Young, beautiful Lady Caroline Elmhurst is down on her luck. Twice-widowed (once is unfortunate, twice just looks like carelessness…), pursued by creditors, she needs to get back on track before the world realizes just how desperate she's become.
But she's optimistic about finding a new husband and when she meets handsome, mysterious Nicholas Congrevance at a houseparty in the country, she sets out to entice him. For his part, Nicholas simply sees Lady Caroline as just the sort of woman he's used to exploiting–rich, available, and gullible. Neither realizes the other is penniless–and neither has any intention of falling in love…
Amazon ~ Barnes & Noble ~ Learn more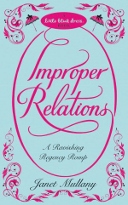 Improper Relations
After losing best friend and distant cousin Ann Weller in marriage to the Earl of Beresford, sharp-witted Charlotte Hayden feels inclined to be even ruder than usual to potential suitors. But after a compromising liaison with Beresford's wicked, wayward cousin, Shad, she's suddenly propelled into a reluctant marriage, and finds herself missing Ann more than ever. But when Ann returns from her honeymoon, she drops a bombshell—not only is she not sure she loves Beresford, she's also had a child out of wedlock, and is planning to betray her husband with her former lover. Charlotte's realization that she's falling in love with Shad only serves to make her dilemma even worse: should she keep Ann's secret, or tell her husband the truth?
Amazon ~ Barnes & Noble ~ Learn more
The Rules of Gentility
Regency heiress Philomena Wellesley-Clegg has rather strong opinions about men and clothing. As to the former, so far two lords, a viscount, and a mad poet have fallen far short of her expectations. But she is about to meet Inigo Linsley, an unshaven, wickedly handsome man with a scandalous secret. He's nothing she ever dreamed she'd want—why then can she not stop thinking about how he looks in his breeches?
A delightful marriage of Pride and Prejudice with Bridget Jones's Diary, Janet Mullany's The Rules of Gentility transports us to the days before designer shoes, apple martinis, and speed dating—when great bonnets, punch at Almack's, and the marriage mart were in fashion—and captivates us with a winsome heroine who learns that some rules in society are made to be broken.
Amazon ~ Barnes & Noble ~ Learn more
Hot Historicals
A Certain Latitude
1800—Allan Pendale, lawyer and the youngest son of the Earl of Frensham, is bound by ship for the West Indies, to impart the news to his estranged father that his mother has died. But he also has another mission—to find out the truth of his origins.
Miss Clarissa Onslowe is also on board, traveling to take up the role of governess to the daughter of the wealthy planter Mr. Lemarchand. There is nothing to keep her in England. An indiscretion five years before led to her reputation being ruined; her abolitionist family has disowned her and no gentleman would marry her now. But now she seeks redemption with her family by revealing the truth about the miserable lives of the slaves who work on the sugar plantations.
Clarissa's previous encounter with love has left her aroused and restless, and Allan is a man for whom lust is a daily pastime; thrown together belowdecks during the long sea voyage, they embark on a sensual odyssey where no desire is left untested. But if they thought their exploration and ecstasy could not be bettered, then there are more pleasures to be taken and boundaries to be broken at their island destination—where "March" Lemarchand, sugar king and master of seduction, awaits them both…
Amazon ~ Barnes & Noble ~ Learn more
The Malorie Phoenix
She plays a deadly game, but nothing is as dangerous as love.
Benedict de Malorie, Earl of Trevisan, can never forget the masked woman he met one night at a London pleasure garden. The clever pickpocket stole his heart and his family's prized jewel – the Malorie Phoenix. But the family treasure reappears in Benedict's darkest hour, returned by its thief, along with the unexpected gift of his infant daughter.
Believing that she is dying, Jenny Smith leaves her daughter in the custody of the baby's blueblood father. Seven years later she finds herself in good health and alone, yearning for her only child. To raise enough money to support them both, she takes part in a daring escapade that requires her to impersonate a woman of quality. She fools the ton and Benedict himself.
When Jenny finds herself entangled in a murderous plot against Benedict, the father of her child, her carefully laid plans begin to fall apart. All she wants is her daughter back, but she never thought she'd fall in love with Benedict. Revealing her part in the plot means she will almost certainly lose Benedict and their daughter forever. But continuing to play her role puts them all in terrible danger.
Amazon ~ Barnes & Noble ~ Learn more
Dedication
Two decades ago their love was a revolutionary act. But the revolution failed. Adam and Fabienne loved and lost.
Now Adam is a respectable country gentleman and Fabienne is a powerful patroness of the arts and they have little in common … or do they?  As their lives become entangled again, dark secrets and betrayals from the past are revealed, threatening them and others they love.
Beyond betrayal and sorrow there's love. There's Dedication.
A rewritten version of the 2005 Signet Regency, the only traditional Regency with two bondage scenes.
Amazon ~ Barnes & Noble ~ Learn more
Anthologies
Jane Austen Made Me Do It
Original Stories Inspired by Literature's Most Astute Observer of the Human Heart
This collection of never-before-published stories inspired by Jane Austen is edited by Laurel Ann Nattress and has contributions by Lauren Willig, Adriana Trigiani , Jo Beverley, Alexandra Potter, Laurie Viera Rigler, Frank Delaney & Diane Meier, Syrie James, Stephanie Barron, Amanda Grange, Pamela Aidan , Elizabeth Aston, Carrie Bebris, Diana Birchall, Monica Fairview,  Jane Odiwe, Beth Pattillo, Myretta Robens, Jane Rubino and Caitlen Rubino-Bradway, Maya Slater, Margaret C. Sullivan, and me!  In my story Jane Austen, Yeah, Yeah, Yeah! a teacher at an all-girls school invokes the Beatles to help her students understand Sense and Sensibility.
Amazon ~ Barnes & Noble ~ Learn more
Bespelling Jane Austen
Almost Persuaded
In this Regency tale of Robert and Jane, New York Times bestselling author Mary Balogh brings together former lovers who have seen beyond their past mistakes, and are determined to be together in this life and forever.
Northanger Castle
Caroline's obsession with Gothic novels serves as good training for a lifetime of destroying the undead with her newfound beau in this Regency by Colleen Gleason.
Blood and Prejudice
In fast-paced present-day New York City, Liz Bennett joins Mr. Darcy on his hunt to cure vampirism in New York Times bestselling author Susan Krinard's version of the classic story.
Little to Hex Her
Emma, a witch with a wizard boyfriend, runs a paranormal dating service in modern-day Washington, D.C., in this story from Janet Mullany.
Amazon ~ Barnes & Noble ~ Learn more
Contemporary Erotic Romance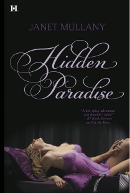 Hidden Paradise
Call it SENSE AND SENSUALITY…or, let's talk about the purple passion.
Louisa Connelly, a recently widowed Jane Austen scholar, needs some relief from her stifling world. When a friend calls to offer her a temporary escape from her Montana ranch, she is whisked into a dizzying world of sumptuous food, flowing wine…and endless temptation.
She's an honored guest at Paradise Hall, an English resort boasting the full experience of an authentic Georgian country-house weekend. Liveried servants tend to the every need of houseguests clad in meticulous period costume: snug breeches, low-cut silken gowns and negligible undergarments.
It's Mac Salazar, a journalist immersing himself fully, deeply, lustily in the naughty pleasures of upstairs-downstairs dalliances, who piques Louisa's curiosity-and libido-most. He's a dilettante straight out of a novel: uninhibited, unapologetic and nearly insatiable. But Lou's not romantic about this much, at least: Paradise Hall is a gorgeous fantasy, nothing more. A lover like Mac is pure fiction. And the real world beckons….
Amazon ~ Barnes & Noble ~ Learn more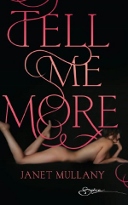 Tell Me More
Tell Me More is a contemporary romance about the erotic power of storytelling and what happens when fantasy and reality collide. Oh, and sometimes it's funny. Jo Hutchinson is obsessed with a man she's never seen—only heard. Her late-night calls to the mysterious "Mr. D." grow increasingly intimate, until they finally become full-blown phone sex. Still, Jo doesn't dare meet him. Instead, she embarks on a series of sizzling sexual escapades with other guys, sharing every sweaty moment with Mr. D. afterward, a passion-by-proxy arrangement they both get off on. But even as she's charting brave new naughty worlds, Jo knows that it's all really for Mr. D. Every pleasure she experiences—eagerly, athletically, vocally—is to please him. Immersed in fantasy, reality just slips away—even the chance at that elusive combination of love and lust. Her new tenant, Patrick, an Irish hunk in geek's clothing, is totally into her. And in her lucid moments, Jo knows she feels the same. Can she tear herself away from her kinky dreamworld long enough to appreciate what's right in front of her? Or has Mr. D. ruined her for real life?
Amazon ~ Barnes & Noble ~ Learn more