Megan's Books
Megan Frampton ~ Megan Caldwell
Books by Megan Frampton
The Duke's Guide to Correct Behavior
All of London knows the Duke of Rutherford has position and wealth. They also whisper that he's dissolute, devilish, and determinedly unwed. So why, everyone is asking, has he hired a governess?
When Miss Lily Russell crosses the threshold of the Duke of Rutherford's stylish townhouse, she knows she has come face to face with sensual danger. For this is no doting papa. Rather, his behavior is scandalous, and his reputation rightly earned. And his pursuit of her is nearly irresistible—but resist she must for the sake of her pupil.
As for the duke himself, it was bad enough when his unknown child landed on his doorstep. Now Lily, with her unassuming beauty, has aroused his most wicked fantasies—and, shockingly, his desire to change his wanton ways. He's determined to become worthy of her, and so he asks for her help in correcting his behavior.
But Lily has a secret, one that, if it becomes known, could change everything…
Amazon ~ Barnes & Noble ~ Learn more
What Not To Bare
In Megan Frampton's witty historical romance, a woman is judged by her gown, and a man by his reputation—until both are shed in one sexy moment of seduction.
Lady Charlotte Jepstow certainly knows how to make an impression—a terrible one. Each one of her ball gowns is more ostentatiously ugly than the one before. Even she has been forced to wonder: Is she unmarried because of her abysmal wardrobe, or does she wear clashing clothing because she doesn't want to be pursued in the first place? But when Charlotte meets Lord David Marchston, suddenly a little courtship doesn't sound so bad after all.
David will be the first to admit he's made some mistakes. But when he gets yanked from his post by his superiors, he is ordered to do the unthinkable to win back his position: woo his commander's niece. If David wants his life back, he must use his skills as a negotiator to persuade society that Charlotte is a woman worth pursuing, despite her rather unusual "flair" for color. But David does such a terrific job that he develops an unexpected problem, one that violates both his rakish mentality and his marching orders: He's starting to fall in love.
Amazon ~ Barnes & Noble ~ Learn more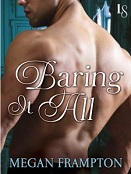 Baring it All (Short Story)
It is with great discretion that this columnist discusses the sensitive topic of undergarments. Some ladies, it seems, do not pay strict attention to what they wear under their gowns. A crucial error, my ladies.
Lady Violet knows Lord Christian Jepstow is interested in women. The problem is, he hasn't seemed to realize that Violet is a living, breathing woman—a woman with needs. Which is a huge problem, considering the fact that Violet and Christian are betrothed. Violet has no intention of saying her vows without knowing if her husband has the capacity to love her properly, so she does what anyone would do in her situation—she steps into his study and offers to take off her clothes. What happens next could be an utter disaster . . . or it could be surprising, seductive, and sizzlingly sexy.
Amazon ~ Barnes & Noble ~ Learn more
Hero of my Heart
In this emotional and powerfully erotic tale of love and redemption, a tender vicar's daughter and a tortured war hero discover that sin may be their only salvation.
When Mary Smith's corrupt, debt-ridden brother drags her to a seedy pub to sell her virtue to the highest bidder, Alasdair Thornham leaps to the rescue. Of course the marquess is far from perfect husband material. Although he is exceedingly handsome, with a perfect, strong body, chiseled jaw, and piercing green eyes, Alasdair is also too fond of opium, preferring delirium to reality. Still, he has come to Mary's aid, and now she intends to return the favor. She will show him that he is not evil, just troubled.
Mary was a damsel in need of a hero, but Alasdair's plan is shortsighted. He never foresaw her desire to save him from himself. Alasdair is quite at home in his private torment, until this angel proves that a heart still beats in his broken soul. The devil may have kept her from hell, but will Mary's good intentions lead them back to the brink—or to heaven in each other's arms?
Amazon ~ Barnes & Noble ~ Learn more
Books by Megan Caldwell
Vanity Fare
Molly Hagan is overwhelmed.
Her husband left her for a younger, blonder woman; her six-year-old son is questioning her authority, and now so is she. In order to pay her Brooklyn rent and keep her son supplied with Pokémon and Legos, not to mention food and clothing, she has to get a job—fast.
So when an old friend offers Molly a freelance position copywriting for a new bakery, finding romance is just about the last thing on her mind. But the sexy British pastry chef who's heading up the bakery has other thoughts. And then so does Molly, when she meets the chef's intimidating business partner—who also happens to have a secret that might prevent Molly from getting her own happily ever after.
Amazon ~ Barnes & Noble ~ Learn more