Sandra's Books
Allan's Miscellany (Victorian) ~ A Love for Every Season (Regency) ~ Standalone Novels (Mostly Regency)
Allan's Miscellany (Victorian)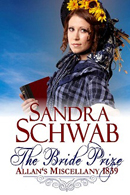 The Bride Prize
ALLAN'S MISCELLANY 1839
It's 1839, and Lord Eglinton's tournament in Scotland is the most anticipated event of the year: he and some of his noble friends will don medieval armor and joust like knights of old.
Does this mean a revival of true chivalry? Miss Florence Marsh thinks it might.
Or is the tournament mere tomfoolery and the greatest folly of the century? Mr. Robert Beaton thinks it is.
But when Flo and Robbie meet at Eglinton Park, they'll soon learn that a dash of romance can make the greatest differences look rather small and that true love might find you in the most unlikely place.
If only Robbie wasn't working for that scandalous new magazine Allan's Miscellany! If only Flo's father didn't detest the periodical press!
And if only they had remembered to bring an umbrella!
More books in this series coming soon!
A Love for Every Season (Regency)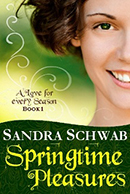 Springtime Pleasures
George Augustus Griffin, Viscount Chanderley has to marry – fast: His father has ordered him to find a suitable wife this very season. Alas, the only woman Griff has eyes for is the very unsuitable Miss Carlotta Stanton, who is not only unbecomingly tall, but also wears the ugliest spectacles in all of England. Still, Griff is utterly bewitched by her intense green eyes. Yet however much he feels drawn to her joie de vivre, duty and honour demand that he stay far away from Miss Stanton.
…and desire
Dubbed "the Giantess" because of her unfortunate height, Charlie Stanton finds the London Season far less glamorous than she had thought it would be – not the least because she is consigned a place among the wallflowers. But then she becomes acquainted with the very dashing Lord Chanderley, whose life is overshadowed by a terrible tragedy in his past. Ever ready to help others, Charlie is determined to rid him of his Sad Melancholia – even if it means taking on wild boars and highwaymen. However, the biggest challenge might be the elusive viscount himself and his belief that he is beyond all redemption.
More books in this series coming soon!
Standalone Novels (Mostly Regency)
Betrayal
For seventeen years Ash has been eaten up alive by bitterness and hatred, caught fast in the clutches of the past. For seventeen years he has not been able to look at the boy he raised as his heir and not remember the terrible betrayal he had to endure. And yet, for seventeen years he has closed his eyes against the even more terrible truth…
Seventeen years ago Georgina fled from England and all she ever held dear. But for the sake of her child, she must return to confront the man whom she once loved more than life itself until lies and deceit tore her life and marriage apart.
Will their love stand a second chance?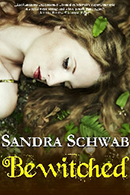 Bewitched
SWEET PASSION …
After a magical mishap that turned her uncle's house blue, Miss Amelia Bourne was stripped of her powers and sent to London in order to be introduced into polite society—and to find a suitable husband. Handsome, rakish Sebastian "Fox" Stapleton was all that and more. He was her true love. Wasn't he?
… OR THE BITTER TASTE OF DECEIT?
At Rawdon Park, the country estate of the Stapletons, Amy began to wonder. Several inexplicable events suggested that one sip of bitter punch had changed her life forever—that this love, this lust, was nothing but an illusion. She and Fox were pawns in some mysterious game, and black magic had followed them out of Town. Without her powers, would she be strong enough to battle those dark forces and win? And would she be able to claim her heart's true desire? Magic potion or no, what she felt for Fox was a spell that could never be broken.
(originally published in 2008)