As you had not heard from me at that time it was very good in you to write, but I shall not be so much your debtor soon. – I want to tell you that I have got my own darling Child from London;  — on Wednesday I received one Copy, sent down by Falknor, with three lines from Henry to say that he had given another to Charles & sent a 3d by the Coach to Godmersham; just the two Sets which I was least eager for the disposal of.
Jane Austen to her sister, Cassandra
January 29, 1813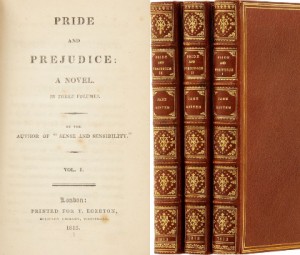 Jane Austen's "own darling Child" was, of course, the published Copy of Pride & Prejudice.  This is month is the 200th anniversary of its publication and a big month for Janeites.
On  January 27, 1813 Jane Austen, at Chawton,  received her first copy of Pride & Prejudice, sent by her brother Henry from London.  Henry also sent copies to Jane's brothers Edward Austen Knight (in Godmersham) and Charles.  Once Jane received her copy, she immediately wrote to Henry and asked him to send c0pies to her brothers Frank and James and, along with her mother, began reading it aloud to a friend without revealing the author.
On January 28, publisher Tomas Egerton's first advertisement for Pride & Prejudice appeared in the Morning Chronicle, detailing a novel in three volumes with a price of 18s.  There were possibly 1500 copies printed; this is not clear. The copyright remained with Egerton until 1841.
Sometime in early February, an anonymous review of Pride & Prejudice appeared in The British Critic, No. 41.   No doubt, Jane Austen noted and probably recorded this review.  She was assiduous in collecting reviews of her work both public and private.
We will see a lot of events, real and virtual, celebrating this anniversary.  Of Jane Austen's six novels, Pride & Prejudice is, without a doubt, the most beloved.   This year, Jane Austen Societies around the globe will be organizing their annual meetings around Pride & Prejudice.  Already, books have been published on the topic, festivals are being planned, and the BBC intends to recreate the Netherfield ball.  Who can resist?
Will you be celebrating or do you celebrate Pride & Prejudice every year anyway?  What are you looking forward to?  And what do you think?  Is this Jane's best work?