99 Cent Sale
The 99 cent sale is officially over, but please feel free to check out the following books. Some may still be at 99 cents!
Click on each title to learn more.
Captain Lacey Regency Mysteries, Volume 1 by Ashley Gardner (Jennifer Ashley)
The Bride of Larkspear by Sherry Thomas
The Lady from Spain by Gail Eastwood
The Sergeant's Lady by Susanna Fraser
Fly with a Rogue by Elena Greene
Lord Ruin by Carolyn Jewel
A Certain Latitude by Janet Mullany
The Books
Captain Lacey Regency Mysteries, Volume 1
by Ashley Gardner (Jennifer Ashley)
Three full-length novels in the award-winning Captain Lacey Mystery series for 99 cents!
Meet Captain Gabriel Lacey, a half-pay cavalry officer who returns to Regency London after the war with little money, but with a sense of honor and fairness. He's pulled into a search for a missing young woman, and thus begins investigating crime. He uses his status as a gentleman but a poor one to cross the boundaries between the top of society and the working class of the back streets.
This volume includes:
The Hanover Square Affair (full-length novel)
A Regimental Murder (full-length novel)
The Glass House (full-length novel)
The Gentleman's Walking Stick (two short stories)
"With her vivid depiction of the era, Gardner brings her novel to life, from the streets inhabited by the destitute to the mansions of the wealthy. Woven into the plot are clues revealing the events from Lacey's past that have shaped him into the honorable but lonesome man he has become." — (4 1/2 stars, Romantic Times, for The Hanover Square Affair)
"Every book in this series is a pleasure and joy to read." — Maggi Anderson, Romantic Historical Reviews
Buy at: Amazon ~ Barnes & Noble (Note: This bundle is only available on Kindle and Nook, but the entire series is available on Kindle, Nook, Kobo, Apple, Smashwords and in print.)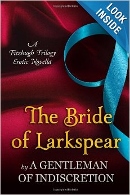 The Bride of Larkspear (an erotic novella)
by Sherry Thomas
Fitzhugh Trilogy, Book 3.5
To save her family from the repercussions of scandal, a young woman reluctantly marries a man she despises. Now she faces her wedding night…
What she doesn't know is that her gorgeous bridegroom has long been desperately in love with her. But he is too proud to expose his yearning to her scorn. Now that he has her in his bed and in his power, he is going to mount a determined and dangerous assault…
It will be a battle fought with whispers, kisses, and the most intimate of touches, a war between a woman defending the fortress of her heart and a man determined to break down all barriers.
Win or lose, each clash will sear with pleasure…
"This is a very intense emotional exploration of the extreme ends of the spectrum of human experience: love and hate, doubt and certainty, pain and pleasure… And, once again, Sherry Thomas leaves me breathless…" — Love Saves the World
"The Bride of Larkspear was both a very hot and a very sweet story." — (5 stars) Amazon Reader Review
Buy at: Amazon ~ Barnes & Noble ~ Apple ~ Kobo ~ All Romance Ebooks ~ Google Play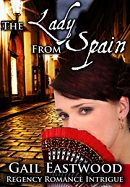 The Lady from Spain
by Gail Eastwood
Spy, innocent, or something else?
Posing as a Spanish widow for safety's sake, Falcarrah Colburne returns to England on a dangerous personal mission. Lord Danebridge, the handsome lord she meets upon her arrival, makes certain that she will need his help, for the government has assigned him to learn if the lady is a spy. Falling in love is not part of his plan for unraveling her secrets. After he has lied to, stolen from, and spied upon her, can he hope to win her trust or divert her from her dangerous path? Can she give up the road to revenge for the risky road of love?
"A sparkling jewel of a Regency romance…a wonderful love story full of cleverly plotted intrigue…topped off with an intensely powerful resolution." — (4 1/2 stars) Romantic Times
Buy at: Amazon ~ Barnes & Noble ~ Apple ~ Kobo ~ Smashwords
The Sergeant's Lady
by Susanna Fraser
Highborn Anna Arrington has been following the drum, obeying the wishes of her cold, controlling cavalry officer husband. When he dies, all she wants is to leave life with Wellington's army in Spain behind her and go home to her family's castle in Scotland.
Sergeant Will Atkins ran away from home to join the army in a fit of boyish enthusiasm. He is a natural born soldier, popular with officers and men alike, uncommonly brave and chivalrous, and educated and well-read despite his common birth.
As Anna journeys home with a convoy of wounded soldiers, she forms an unlikely friendship with Will. When the convoy is ambushed and their fellow soldiers captured, they become fugitives together. The attraction between them is strong, but even if they can escape the threat of death at the hands of the French, is love strong enough to bridge the gap between a viscount's daughter and an innkeeper's son?
"The idea of an officer's wealthy widow falling in love with a heroic common solider is beautifully romantic and heats up the pages right from the beginning." — The Season for Romance
Buy at: Carina Press ~ Amazon ~ Barnes & Noble ~ Apple ~ Kobo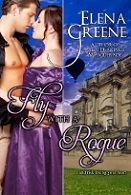 Fly with a Rogue
by Elena Greene
A village schoolmistress's life takes a turn when a Waterloo veteran turned aeronaut crashes his balloon near her cottage. Passion sweeps them along, taking them on a scandalous flight across the English countryside. They must marry, but can they make a life together?
"I enjoyed the interaction of these two characters. It was many things…humorous, serious, caring, annoyance and of course, romantic. You never knew quite what to expect next from them." — (5 stars) Amazon reader review
Buy at: Amazon ~ Barnes & Noble ~ Apple ~ Kobo ~ Smashwords
Lord Ruin
by Carolyn Jewel
The Duke of Sin
The Duke of Cynssyr didn't believe in love. He planned to marry for beauty. But a night of unforgettable passion left him a changed man — a man tied to a bespectacled spinster. Anne Sinclair's long legs drove him wild with desire, and her quick wit challenged his mind. Ruined for any other, the notorious rake had only one choice; to court his wife. To win her condfidence, however, nothing less than his love would do.
The Old Maid of Bartley Green
Anne Sinclair had sworn to protect her sister from the infamous Lord Ruin. Yet she never expected to sacrifice her own virtue. Forced to give the rogue her hand in marriage, she vowed never to relinquish her heart. But Ruan worshipped her body and valued her intelligence, making Anne long to succumb to the ultimate temptation: falling for her husband.
"With a captivating, innocent young woman and a handsome virile rake of a man, Ms. Jewel's sensual and powerful love story keeps to the classic lines of the Regency Historical and while adding a fresh voice." — (4 stars) Joan Hammond, Romantic Times
Buy at: Amazon ~ Barnes & Noble ~ Apple ~ Kobo
A Certain Latitude
by Janet Mullany
1800—Allan Pendale, lawyer and the youngest son of the Earl of Frensham, is bound by ship for the West Indies, to impart the news to his estranged father that his mother has died. But he also has another mission—to find out the truth of his origins.
Miss Clarissa Onslowe is also on board, traveling to take up the role of governess to the daughter of the wealthy planter Mr. Lemarchand. There is nothing to keep her in England. An indiscretion five years before led to her reputation being ruined; her abolitionist family has disowned her and no gentleman would marry her now. But now she seeks redemption with her family by revealing the truth about the miserable lives of the slaves who work on the sugar plantations.
Clarissa's previous encounter with love has left her aroused and restless, and Allan is a man for whom lust is a daily pastime; thrown together belowdecks during the long sea voyage, they embark on a sensual odyssey where no desire is left untested. But if they thought their exploration and ecstasy could not be bettered, then there are more pleasures to be taken and boundaries to be broken at their island destination—where "March" Lemarchand, sugar king and master of seduction, awaits them both…
"A marvel of sex, smarts, and wit" — Pam Rosenthal/Molly Weatherfield
Buy at: Amazon ~ Barnes & Noble