Today I come to you with all kinds of bookish news: I'm currently knee-deep into the production of new print editions of all of my books. (It kind of hit me when I was preparing  Eagle's Honor: Ravished, which I have entered into the RITAs, for print that very few of my novels were actually available as paperbacks. So it was definitely beyond time to remedy that situation.) Moreover, a few weeks ago, I also discovered how to create drop caps in MS Word and since then I've been on a roll. As you can see from the picture above. 🙂
For the print edition of Castle of the Wolf, my Beauty & the Beast story, in which a young woman inherits a mysterious castle in the Black Forest, I chose a set of initial letters that reminded me of old fairy tale books. I thought that was quite fitting since fairy tales play a very important role in the story.
So this is the good part. However, overall Sandra's Adventures in Print Publishing didn't go quite that smoothly. The grumpy dude on the cover? He's orange. "But, Sandy," you might say, "he is not orange in that picture above." Yeah. I know. I applied a number of filters to that picture above because I didn't want to inflict his glow-in-the-dark color on anyone. So if you'd like to get a nice new edition of Castle, please wait a few days. I'm currently fixing it. (I just hope he doesn't turn out to look like a zombie this time around.) (That's what living in a run-down castle does to you: turns you into a zombie!)
But what *did* turn out really nicely is the frontispiece (see? I'm really on a roll here! hehe!): I did include a sketch of the Kastelburg in Waldkirch, upon which the castle in my novel is (partly) based. Here is a picture of the frontispiece in the making:
Annnnnnd in other bookish news, my grumpy centurion, whom I mentioned in my last post about doing portraits, is going to hit bookshelves this Friday. I so enjoyed telling Caius & Lucius' story. I fell in love with these two when I first wrote them as secondary characters into Eagle's Honor: Ravished, which is set ten years after The Centurion's Choice, and I knew from almost the start that I very much wanted to tell their story as well.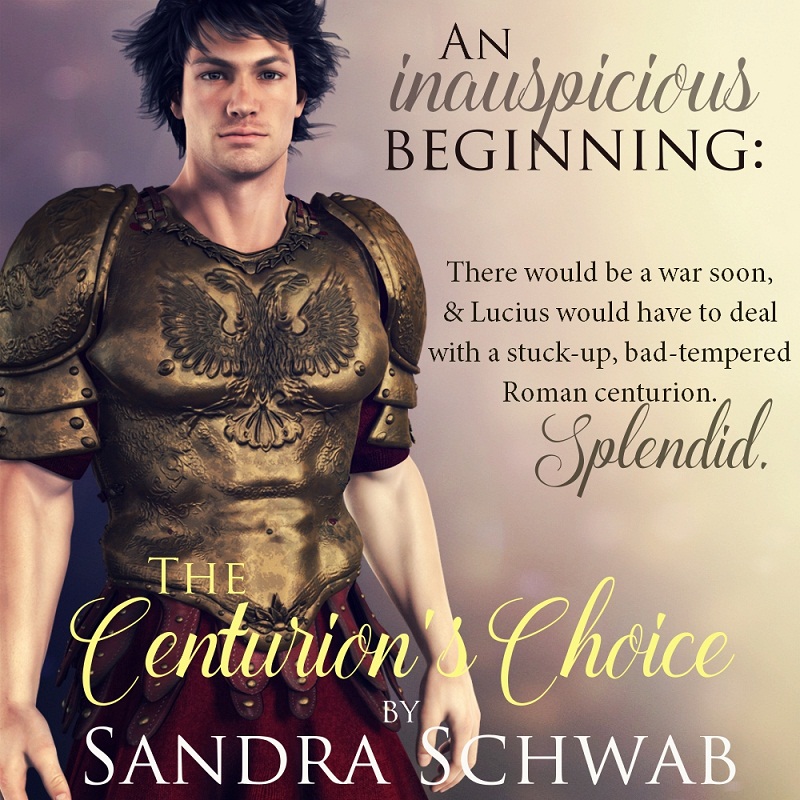 For me, one of the great joys of writing the Eagle's Honor series is that has expanded into an exploration of family relations across several generations as well as an exploration of family stories. Family stories formed an important part of my growing up – my paternal grandmother in particular liked telling me stories about the time when my father and his sisters were little, and sometimes also about the time when she was a young woman. And above my parents' dining table there's a huge collage of family pictures going back as far as the 1890s. So my own experiences of how people in my family talked about their past and about people from past generations I've never met, very much informed the way I have been approaching the stories the Florius family share.
I love imagining what kind of stories members of the Florius family would share about past generations and what kind of things would be passed from one generation to the next. And also imagine what sort of circumstances would interrupt this chain of oral traditions; in how far memories might change over time. For me, it's a really nice way to link these stories that set apart several decades. (And of course, I hope readers will enjoy these links, too!)
But, of course, these family stories just form a tiny part of the background for The Centurion's Choice, which at its heart is a enemies-to-friends-to-lovers story. With a very grumpy centurion. 🙂 (Watching those grumpy guys fall in love is always such great fun, isn't it?) So without further ado, here's the blurb for the novella. I will add buy links on Friday, when the book comes out.
It's 178 AD, and barbarian tribes once again threaten the borders of the Roman Empire. To make matters worse, Lucius' promotion in his auxiliary cohort has been denied, and instead the governor has appointed a moody, mean-tempered Roman to become the new centurion of the Septem Gallorum. And, incidentally, to trample all over Lucius' ambitions.
Tall and burly, Centurion Caius Florius Corvus might be way too good-looking for Lucius' peace of mind, but the man has also made it abundantly clear that he doesn't trust Lucius as his second-in-command. Yet as they are swept into war and each has to shoulder his responsibilities, a reluctant respect begins to grow between them, which soon grows into friendship — and, perhaps, more?