I'm normally the type who keeps all Christmas activities strictly confined to the six weeks or so between Thanksgiving and Epiphany. I never Christmas shop before Black Friday. I wouldn't dream of putting decorations up before the first Sunday in Advent. But this year I spent a good chunk of February and June with Christmas on the brain–I was writing Christmas novellas!
My February project will be a Carina release in 2014. Since that's so far away, and it doesn't have a release date or title yet, all I'll say about it for now is that it's the story of star-crossed lovers reunited after a five-year separation at a Regency house party…with wassailing and mistletoe and a thick coat of snow on the ground.
But my June project, Christmas Past, releases in less than two weeks, on November 25!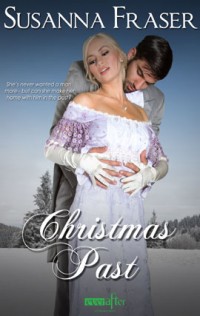 As the title hints, it's a time travel story. The heroine is from my own adopted hometown of Seattle in 2013–only in her version of the present, time travel has been invented and is largely used for medical and other scientific research. Sydney is a PhD student in historical epidemiology, making her first trip to the past to collect blood samples from soldiers in Wellington's army for her mentor's study on the epidemiological impacts of the Napoleonic Wars.
Time-traveling PhD student Sydney Dahlquist's first mission sounded simple enough—spend two weeks in December 1810 collecting blood samples from the sick and wounded of Wellington's army, then go home to modern-day Seattle and Christmas with her family. But when her time machine breaks, stranding her in the past, she must decide whether to sacrifice herself to protect the timeline or to build a new life—and embrace a new love—two centuries before her time.
Rifle captain Miles Griffin has been fascinated by the tall, beautiful "Mrs. Sydney" from the day he met her caring for wounded soldiers. When he stumbles upon her time travel secret on Christmas Eve, he vows to do whatever it takes to seduce her into making her home in his present—by his side.
I had a lot of fun writing this story, particularly going back and forth between Sydney's contemporary voice and Miles's Regency voice–and I'm so used to shifting into Regency vocabulary and diction the instant I open a manuscript file that Sydney's was far more challenging to achieve!
When writing my Christmas novellas, I found myself imagining reader busy with everything that makes November and December such a joyous yet challenging time of year. Maybe she's flying home to her family and wants a good story to take her mind off a crowded, turbulent flight. Maybe she just put her pies in the oven and wants to put her feet up and read while her house warms with the aromas of pumpkin and spice. Maybe she's snowed in, unable to make it to work or school, and is elated to finally have time to escape into fiction.
What about you? When do you read holiday novellas? What are some of your favorites? And when do you put up and take down your decorations?
Christmas Past is now available for preorder from multiple sources, including Amazon, Barnes & Noble, iTunes, Kobo, and Google Play.