Hello all! I'm sorry that I haven't been around much of this year. Life has been more than ordinarily challenging–maybe I'll share some of the story someday.
What I can tell right now is that once again I'm working on a comeback. I've some experience at this already, having made two creative recoveries in the past, and this time I am more strongly motivated than ever. Perhaps over the next few years, I'll even surprise myself. I hope so!
One of the first steps I've taken was heading out to this year's RWA conference in San Diego. I know about a month has passed, but you may still enjoy some pics from the Beau Monde (Regency special interest chapter) soiree. Here are some of the members, including me, posing in our Regency garb.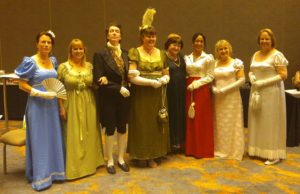 And here I am with Cara King, author of My Lady Gamester and past Risky, along with Sir Reginald Scott, the rakish cousin of author Regina Scott.

Some of us helped out with a video used as part of the RITA and Golden Heart ceremony. Here's the video from Youtube. Check us out at about 15:15.

Since RWA, I have been starting work on several projects. More on that soon! And it's nice to be back. 🙂
Elena