As you may know, I'm not at all shy about sharing my feelings about Downton Abbey (summarized as deep loathing). But the clothes in the series are fantastic. Yesterday I took a trip up to Winterthur where there is an exhibit of the costumes that ties in the similarities and differences between the fictional English household and the duPonts in the early twentieth century. Each display had a video clip or montage from the series and a script excerpt. It was a brilliantly done exhibit. I would have liked to have known a little more about the clothes–fabrics, for instance, and sometimes it was a bit difficult to tell what was extant and what was created. Quite often the designers took a surviving scrap of beading, or even part of a garment, and added to it.
So here are some pics. I'm assuming everyone will know who wore what when. Here's an original gown, very short and daring, and I would have been terrified to wear it since beads were falling off it. Notice how deep the arm openings are–they added in a matching slip.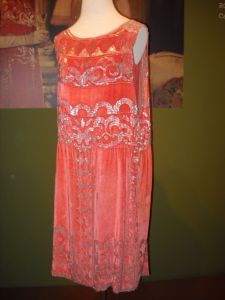 Here's a detail of some of the beading on an evening gown.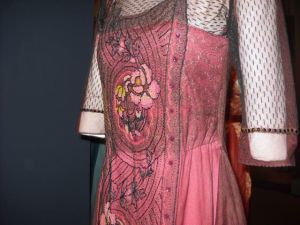 Gloves! The red ones were worn by one of the characters, the rest are extant.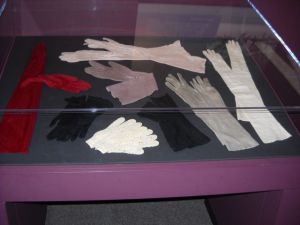 Coats, featuring some exquisite embroidery.
Summer dresses against a montage of the series (love Hugh Bonneville who I think was wasted in this role, don't get me started. He's a terrific comic actor too, and it says worlds for his professionalism that he didn't play it for laughs). The center one is original and the pattern is very Japanese-inspired.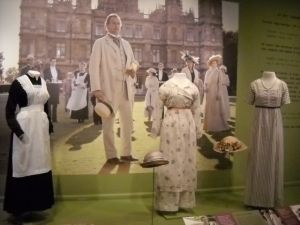 Here are some of the servant's costumes. I'm sure the maid's print dress and apron were original because they looked very worn. The designers used a slightly metallic fabric for the cook's dress to make it pop for the camera.
And this hat. How I love this hat: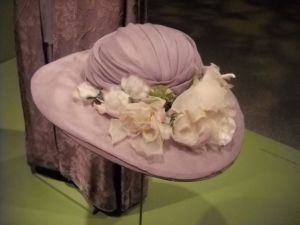 Winterthur is an astonishing place. It is huge, and you'd need days to see everything it has. Henry Francis du Pont expanded a fairly large 18c house by building on another 175 (I think) rooms to house his collection. He bought 18c and early 19c furnishings and even entire rooms from the period at a time when such items were not popular or even considered particularly valuable. There's one room, for instance that incorporates two doorways, two windows, and a fireplace salvaged from a fairly small Philadelphia house whose owner wanted to install a shop window. There's another room hung with 17c Chinese wallpaper that required him to raise the ceiling to accommodate it. A complete set of silver tankards made by Paul Revere. And much, much more.
Have you visited any historic houses or museums that you'd like to tell us about?