I've been too busy to write or even come up with a proper post on matters Regency, but I do have some news–not all writing-related, not as exciting as Carolyn's, but I'm still happy about it.
I've taken a part time position as temporary, part time religious education coordinator at my UU Church, filling in while the search continues for a permanent director. It's a great position for me right now–I'm dealing with great coworkers, a caring community of families and teachers, and amazing kids from nursery age to youth group. I had to come up to speed quickly, so the past few weeks I worked nearly full time, but it's been a blast. On the less-than-fun side, I've also dealt with an upper respiratory something-or-over and some drama from my teenage daughters, but things are settling.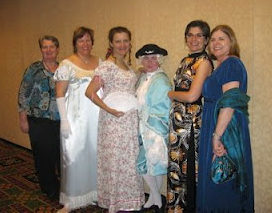 I'm looking forward to getting back to writing again next week. I also recently registered to go to the Romance Writers of America National Conference in San Diego! I've been able to catch up with some of my writer friends at the New Jersey conference, but this will be a chance to renew friendships with friends who don't make it out to the East Coast, as well as to refresh my knowledge of the craft and business.
Here's a picture of the Riskies in 2008, which is that last time I attended. It's been far too long!
What special plans do you have for this year?
Elena