Earlier this year when I was in Berlin for the LoveLetter Convention, I visited the Pergamon Museum, which houses several truly fantastic artefacts from classical antiquity (like the huge, huge, HUUUUUUGE Pergamon Altar), among other things. I wasn't really all that clear about those other things, so I was completely bowled over when I went through the entrance hall and up to the first floor & found myself facing the magnificent Ishtar Gate from Babylon. It is one of the most mind-bogglingly beautiful things I've ever seen.

But I was almost as thrilled when I found several sculptures and bas-reliefs from other ancient cities of the Near East in another suite of rooms – like Mr. Human-Headed Winged Bull here. (I might have even squeed a little.) (Quietly.) (Totally on the inside.) (I think…)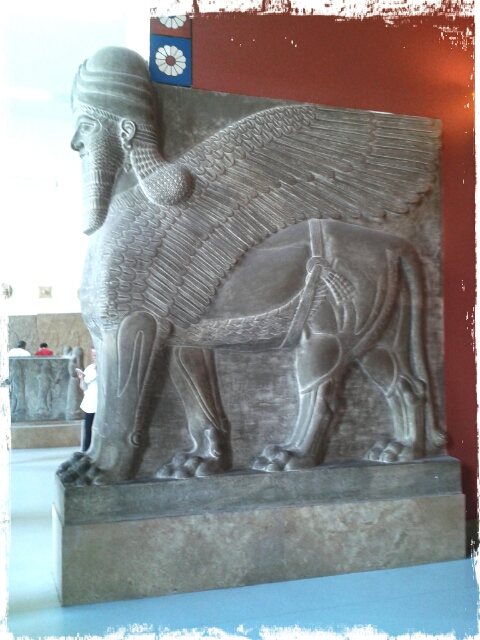 All that inside squeeing was due to the fact that the hero of my novella DEVIL'S RETURN has taken part in Austen Henry Layard's excavations of the ancient Assyrian city of Nimrod, where he would have seen the same kind of statues and bas-reliefs I was admiring in the Pergamon Museum:
So Alex told them about Layard's latest excavations, and their plan to prepare for his visit later this year. He described the alabaster sphinx that had been found in one of the buildings of Nimroud, and the strange creatures in the bas-reliefs: ferocious lions and winged bulls with human heads, dragons and fearsome monsters with heads of lions, bodies of men, and feet of birds.
Many of the 18th and 19th-century archaeological excavations seem to have been done in a rather haphazard way ("Oh, look! There's a mound! Let's dig it up and see what's inside!") and very often by people who were mostly interested in the pretty things they could drag back home and show off to their friends & acquaintances. (Lord Elgin and the sculptures from the Parthenon come to mind here.) (Though, to be fair, he seems to have primarily wanted to get them for the British Museum, not for his own sitting room.)
In other cases, archaeological excavations were motivated by a desire to give the finger to Britain's neighbors across the Channel, in particular to the arch-rival France. Indeed, securing Assyrian antiquities for the British Museum to rival those in the Louvre was one of the main reason for the British ambassador in Istanbul, Sir Stratford Canning, to finance Layard's first excavations. In 1846 Layard received additional funding from the British Museum itself for the excavations that are briefly described in DEVIL'S RETURN. The first of the artefacts Layard found (i.e., the bas-reliefs and sculptures he had removed from the walls of the ancient city) arrived in London in 1850 and were soon exhibited at the British Museum, where, judging from the long article in The Illustrated London News, they received considerable interest.

DEVIL'S RETURN is out now (Amazon | Kobo). Follow my adventurer-hero Alexander Crenshaw from the ancient cities of Assyria to the fashionable soirées of London high society, where he will face the biggest challenge of them all: his long-lost love…