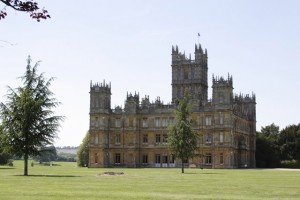 I was watching Downton Abbey last night (no spoilers- I know not everyone has seen the end yet) and after the episode there was a feature on Highclere Castle, the country house and estate that "play" Downton Abbey in the mini-series.
The house as it exists today was remodeled in 1839-42 in the style of the new Houses of Parliament so it did not exist in "our" Regency time, but, in the late 18th century the 1000 acre parkland was designed by Capability Brown and developed by the second Earl of Carnavon. At scenic points in the park the Earl placed follies to add to the beauty of the  landscape.
Follies are extravagant buildings constructed just for show and for no other purpose. They were popular among the wealthy in the 18th century, often inspired by Roman and Greek ruins gentlemen had seen on their grand tour, but they could also mimic old English ruins,  castles and towers and abbeys.
Follies
If you could have a folly, which one of these would you choose? Or would you prefer some other folly?
Remember there is still time to comment on Michelle Willingham's Interview and earn a chance at one of four free books. I'll select the winners at random after midnight tonight ET.