A very nice thing happened this week. Joelle, a "huge fan" (as she describes herself) from France, emailed to tell me that the French edition of The Mysterious Miss M is being released in August and she sent me a jpg of the book cover. Joelle has read my books in English and it was très généreux of Joelle to take the time to tell me about this exciting event, it gave me the idea of showing off my foreign covers.
Harlequin Mills & Boon has world-wide distribution and their authors might have their books released over and over again in different countries. I haven't yet had the pleasure of one of my books to be released in Japan (can't wait for that one) but they've come out in Italy, Germany, Australia, and now France! My Diane Perkins books will even appear in other countries-Spain and Norway.
The covers are all different, and sometimes the titles are altered in the translation.
My first foreign sales were to Italy. I remember years ago when I traveled to Italy with my friend Susan, I had just started writing romance. I searched bookstores for a romance in Italian, but only found them on newstands. I purchased an Italian Harlequin then, and now my own books have appeared on their newstands. Molto ironico!
The Mysterious Miss M
A Reputable Rake
I am supposed to receive copies of each foreign edition, but that does not always happen. So far, I have the whole set of German releases. One of the first reviewers I contacted to review The Mysterious Miss M was Kris Alice Hohls, who now is publishing a romance review magazine Love Letter. Kris liked Miss M so much she convinced Cora, the German branch of Harlequin, to release it as a single title book. The others came out in their series lines.
The Mysterious Miss M
The Wagering Widow
A Reputable Rake
I love those German covers, with all their bursting emotion.
The most elegant covers, however, are the Australian ones. In Australia, my books were released in a two-books-in-one format, paired with another Regency author. It has been so difficult to find good images of these books and I only had Lords & Ladies to scan.
The Mysterious Miss M in Regency Scandals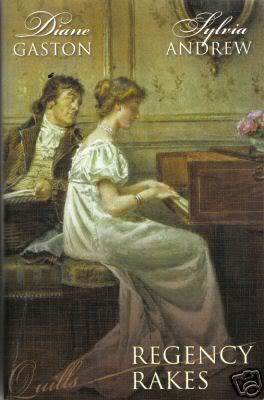 The Wagering Widow in Regency Rakes
A Reputable Rake in Lords & Ladies
(Don't you think the titles for these last two should be reversed?)
So far one of my Diane Perkins books has been released in Spain. This is not my favorite cover–much too contemporary and generic–but it has to be my favorite foreign title.

La Impostora (The Improper Wife)
I tell you, this is all part of the fun of being a romance author!
For more fun go to Romance Novel TV. Click on the RWA 2007 tab and on Girl's Night Out. If you look quick you'll see me!
Also hurry over to DianeGaston.com. Only one more day to enter my contest to win copies of The Mysterious Miss M for you and a friend.
To be a winner every month, sign up for our Risky Regency newsletter at riskies@yahoo.com (Put NEWSLETTER in subject line). The newsletter is a prize in itself!
Au revoir! Arrivederci! Auf Wiedersehen! Adiós! G'day, mate!