(Amanda will be back with her regularly scheduled Tuesday post next week!  In the meantime, her friend Kae Elle Wheeler has agreed to visit the Riskies again with a look at her new release, The English Lily!  Comment for a chance to win a copy…)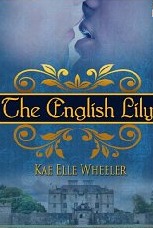 Lady Kendra has led a long fruitful life. But as a young woman, and in a major turning point of her life, her time with Charles Thomas was cut remarkably short. To ease her mind, she sends him a heart-filled note.
Dear Mr. Thomas,
I realize it is most inappropriate for me to send you this letter, but rest assured I have my husband's utmost approval. It has been many years since I last saw you, and the memory still haunts my dreams I fear. I thought if I could enlighten you to my situation we might each finally move forward, where ever that might be for you now.
Since that most fateful day aboard the Cecilé, I married Joseph. True, he was a most successful magician, but I am pleased to say he has proved an even more devoted husband and father. We have four beautiful children. Our eldest and heir to Yarmouth named Charles for you, my dear friend. You would be most proud of Charles, for he is a brilliant scholar and benefactor of The School for the Poor and Unfortunate. The others fell closely in his footsteps in their efforts to realize your dreams. Aaron, our most athletic is an avid hunter and horseman. Our girls, twins, mind, Julia and Jane, followed in their father's way with his magic. Oh, not that Joseph would allow them to tread the boards! But he taught them all of his silly parlour tricks on which the two took to perfecting and creating with havoc of their own.
For many years, I kept in very close contact with your mother, to her very end. I am proud she called me Friend. Finally, you will be most happy to know my husband reads a beautiful poem or story to me each and every night when we retire, and on occasion, I find I quite enjoy reading one to him as well.
I hope this note will offer you the peace that is descending on me as I pen it.
Yours forever, most devotedly so,
Kendra Frazier, Lady Yarmouth
From the back cover:  Lady Kendra Frazier is devastated. The love of her life just married another, and now all she desires is to be as far away as possible. Viscount Lawrie, Joseph Pinetti Gray, is facing financial ruin and needs a wealthy heiress. Luckily for him, Kendra's impetuous nature has handed him the fortuity he requires to save his family's downfall. But Joseph's carefully cultivated plans come to a grinding halt when he finds himself falling in love for what should have only been a marriage of convenience. And how can an old cursed doll help?
The Oklahoma Romance Writers of America, through The Wild Rose Press, have a series of books. Each Tales of the Scrimshaw Doll book must meet a certain criteria. This criteria includes a tie to Oklahoma in some fashion, portraying the curse of the doll accurately, must be romance and the hero/heroine cannot have been married to one another previously.
http://facebook.com/kathylwheeler
http://twitter.com/kathylwheeler
Kae Elle Wheeler has a BA degree from the University of Central Oklahoma in Management Information Systems that includes over forty credit hours of vocal music. As a computer programmer the past fifteen years, she utilizes karaoke for her vocal music talents. Other passions include fantasy football, NBA and musical theatre season tickets, and jazzercise. Because to quote Nora Roberts to a one time question, if she worked out? Her reply, "You have to get off your ass."
Kae began has been a member of the Oklahoma Chapter of Romance Writer's of America and the RWA since March of 2007. She grew up in the Dallas area and definitely considers herself a city girl. She does not limit her travels to Writer Conferences in San Francisco, Washington DC, Seattle, Dallas, New Jersey, New York City and Atlanta because Jazzercise has fun conferences too (Denver, Palm Springs and Orlando). You can't keep her at home!
She is a member of several RWA Chapters, including DARA, The Beau Monde and Passionate Ink. She has held several positions in the OKRWA Chapter, currently serving as Programs Director. As an avid reader of romance and patron of theatre, her main sources of inspiration come from mostly an over-active imagination. She currently resides in Edmond, Oklahoma with her musically talented husband, Al, and their bossy cat, Carly.