For many reasons too boring to chronicle, I have not yet started on the Holiday shopping. Maybe I'm spending too much time wishing I was back in Mayfair. Now that would be a place to go shopping!
I'm sure I could find 99% of my gifts at Fortnum and Mason! In fact, I was just looking online to see if I could purchase Fortnum and Mason tea somewhere (William and Sonoma). But wouldn't I love to be browsing through the Mayfair store again.


I also wish I could purchase something from Floris. Not only are the scents wonderful, I would just love to walk into the store again!


Books are always a good gift, right? Especially from Hatchard's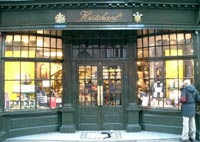 It's difficult to pick a hat as a gift for someone, but if I stopped into Lock and Co., I'd get to gaze at Wellington's hat and Nelson's.


After exhausting the options in Mayfair, I could stop at a boutique in Chelsea.

No matter what store–heck, I'd even settle for a stop in Boots–I'd rather be shopping in England.
How about you? Any dream locations for Holiday shopping?