I had a new book release this weekend!!!  (I know, another one!  It's been a crazy book autumn, but now you will have a break from me until April, when my second Amanda Carmack mystery, Murder at Westminster Abbey, comes out…).  This month it's Running From Scandal, book two of the Bancrofts of Barton Park duet.
The past is always hot on your heels… 
 Emma Bancroft used to pride herself on her sensible nature, but good sense flew out the window during her first Season in London! Her reputation and her belief in true love in tatters, she reluctantly returns home to Barton Park.  
 David Marton is trying to live a quiet life—until Emma comes sweeping back. With whispers of scandal all about her, he knows she will never be the right woman for him, but sometimes temptation is just too hard to resist…. 
When I was working on book one (The Runaway Countess, the story of Emma's sister Jane and her estranged husband), I knew Emma would be the heroine of book two, but I wasn't sure who her hero would be.  I loved her free-spirited, digging-in-the-dirt exuberance, and wasn't sure who would match her!  She followed her heart, which didn't always lead her down the right path.  Then I noticed the sparks she had with the seemingly strait-laced neighbor, David Marton, and thought…what if???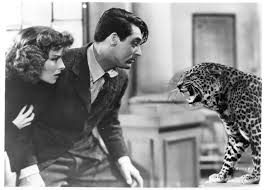 I loved spending time with Emma and David!  Their romance was inspired by the 193os screwball comedies I love so much.  Bringing Up Baby, The Awful Truth, The Lady Eve…all deliciously frothy and fun stories of madcap heroines teaching too-serious heroes how to have fun, while the heroes give the heroines stability and security in love.  I also fell in love with David's daughter Beatrice, who does not want a new mama–until the right one comes along.
"Including a darling little girl, meddling relatives, and a bit of suspense, McCabe's story charms readers and gives them an enjoyable read…"  –RT BookReviews
(Read an excerpt at my blog to see Emma and David's meeting!)
What are some of your favorite romantic movies, with character pairings you love???  (One commenter wins a signed copy of Running From Scandal!)
And don't forget the Harlequin Historical Advent Calendar contest, running all this month!  My day is the 6th…visit me at my website that day for a chance to enter…