I'm still celebrating Pride & Prejudice's 200th anniversary.  Today, I'm enjoying a retrospective of Darcy's first proposal to Elizabeth.  It's a classic within a classic. So, I thought we should take a look at the various ways it has been adapted
"In vain have I struggled. It will not do. My feelings will not be repressed. You must allow me to tell you how ardently I admire and love you."
Elizabeth's astonishment was beyond expression. She stared, coloured, doubted, and was silent. This he considered sufficient encouragement; and the avowal of all that he felt, and had long felt for her, immediately followed. He spoke well; but there were feelings besides those of the heart to be detailed, and he was not more eloquent on the subject of tenderness than of pride. His sense of her inferiority — of its being a degradation — of the family obstacles which judgment had always opposed to inclination, were dwelt on with a warmth which seemed due to the consequence he was wounding, but was very unlikely to recommend his suit.
Read the rest of the proposal here.
This is possibly the most heartfelt and insulting proposal in English literature.  In adaptations, there is so much to be done with it.  Shall we see what has been done?
My apologies for not embedding the videos.  I can't seem to size them correctly at this moment.
 1940: Greer Garson & Laurence Olivier
Like much of this adaptation, Darcy's first proposal takes some liberties with the text, but it does manage to get the basics.  It's one of the most faithful scenes in an unfaithful adaptation.  But who doesn't like Sir Laurence?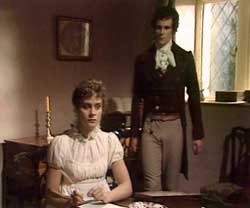 1980:Elizabeth Garvie & David Rintoul
Yes, I know many love this adaptation.  I'm afraid I cannot share that affection.  The dialog is fairly faithful, but really.  There is no emotion in this scene.  I've come to expect that from David Rintoul, who plays Darcy as though he had been assimilated by the Borg.  And, I'm afraid Elizabeth Garvie gives as good as she gets here.
1995:  Jennifer Ehle & Colin Firth
Now, this one… This one is, in my opinion, very nearly perfect.  It occurs in the right setting and captures the feeling of the dialog, the emotion of both parties without going overboard (see below).  You can actually see Mr. Darcy struggle against his inclination and Elizabeth's realization of exactly what's going on. And you can't go very far wrong with Colin Firth.  Now, that's Mr. Darcy.
2005: Keira Knightley & Matthew MacFadyen 
Here we have Pride & Prejudice by Charlotte Bronte (or possibly Emily).  I cannot indict this scene for lack of emotion.  Indeed, there is a surfeit of emotion as evinced by the thunder in the background.  I'm sorry, but this proposal is sufficiently dramatic without the atmospherics.  And what is happening at the end.  Is she thinking about kissing him after telling him off? That's one way of writing this scene.  I could see it happening and have in several romances but not, alas, in Pride & Prejudice.
I'm sure you all have a favorite adaptation.  And I won't object too strongly if it doesn't agree with mine.  What do you think of these proposal scenes or do you have another that you prefer?