"Mr. Collins to be sure was neither sensible nor agreeable; his society was irksome, and his attachment to her must be imaginary.  But still he would be her husband.  Without thinking highly either of men or of matrimony, marriage had always been her object; it was the only honourable provision for well-educated young women of small fortune, and however uncertain of giving happiness, must be their pleasantest preservative from want.  This preservative she had now obtained; and at the age of twenty-seven, without having ever been handsome, she felt all the good luck of it."
on Charlotte Lucas's marrying Mr. Collins
Pride & Prejudice, Volume 1, Chapter 22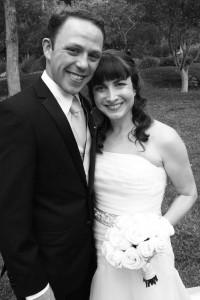 Last week, at 6:30 on a Friday evening, I married my sweetheart (and future romance novel inspiration), Kyle!  It was nothing like Charlotte Lucas's pragmatic arrangement, really nothing like a small church Regency wedding at all (except that it was small!  We married in the garden of a hotel in Taos, New Mexico, with 10 people there including us, and a lovely dinner with cake and champagne after).  There were no grand spectacles, a la Marie Antoinette's great crush or the Cambridges' regalness, but it was beautiful and romantic, and exactly what we wanted.  It was a day I never thought would come for me–walking down the aisle toward a man I am madly, romance novel-style in love with, my best friend and partner in a crime.  And now we've stared a new life together, which I find to be amazing (and scary as heck, natch).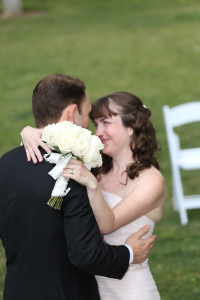 My dress was a pale pink silk and soft white organza, with a pleated bodice and pearl-beaded satin belt, strapless with a pleated bodice, and I told the salon I wanted a "fairytale" look for the hairstyle and makeup, which I think they did so well with long curls and soft lipstick.  The vows were tailored just toward us, how we met, how we share a love of music and theater and creativity, and my best friend and her husband read a lovely poem that perfectly depicts "us."  (see it at the end of this post!).  The rain held off until just after we finished the photos and went in to dinner, so all went off perfectly. 🙂
Next year we'd like to renew our views in England, maybe Bath in Regency attire at the Pump Room, or Tudor garb at Hever Castle.  Or maybe I'll be crazy, get a Kate lookalike gown and parade around Westminster Abbey!!!  With him, the adventure is endless.
What was your wedding like?  What would you have done differently/the same?  Where would you have a wedding now?  And whos had your very favorite wedding ever (in books, in history, or in real life!).  We have wedding fever here today….in fact, I will give away a signed copy of my book "Betrayed By His Kiss" (not out til October!) to one commenter on the subject of weddings….
"I Like You" by Sandol Stoddard Warburg
I like you and I know why.
I like you because you are a good person to like.
I like you because when I tell you something special, you know it's special
And you remember it a long, long time.
You say, "Remember when you told me something special?"
And both of us remember
When I think something is important
you think it's important too
We have good ideas
When I say something funny, you laugh
I think I'm funny and you think I'm funny too
I like you because you know where I'm ticklish
And you don't tickle me there except just a little tiny bit sometimes
But if you do, then I know where to tickle you too
You know how to be silly
That's why I like you
Boy are you ever silly
I never met anybody sillier than me till I met you
I like you because you know when it's time to stop being silly
Maybe day after tomorrow
Maybe never
Too late, it's a quarter past silly!
That's because you really like me
You really like me, don't you?
And I really like you back
And you like me back and I like you back
And that's the way we keep on going every day
If you go away, then I go away too
or if I stay home, you send me a postcard
You don't just say "Well see you around sometime, bye"
I like you a lot because of that
If I go away, I send you a postcard too
And I like you because if we go away together
And if we are in Grand Central Station
And if I get lost
Then you are the one that is yelling for me
I like you because I don't know why but
Everything that happens is nicer with you
I can't remember when I didn't like you
It must have been lonesome then
I like you because because because
I forget why I like you but I do
So many reasons
On the 4th of July I like you because it's the 4th of July
On the fifth of July, I like you too
If you and I had some drums and some horns and some horses
If we had some hats and some flags and some fire engines
We could be a HOLIDAY
We could be a CELEBRATION
We could be a WHOLE PARADE
See what I mean?
Even if it was the 999th of July
Even if it was August
Even if it was way down at the bottom of November
Even if it was no place particular in January
I would go on choosing you
And you would go on choosing me
Over and over again
That's how it would happen every time
I don't know why
I guess I don't know why I really like you
Why do I like you
I guess I just like you
I guess I just like you because I like you.