Two years ago, I opened a package of books delivered to me and discovered that my 2007 book, Innocence and Impropriety had been released as a Japanese Manga!


What a thrill. I blogged about it here. I loved the illustrations, but the text was in Japanese, so I couldn't read it.
Imagine my delight when I accidentally discovered that the Manga version had been translated into English! First it was available only in the UK and only in ebook version, but last week I found the English ebook version on Amazon! It comes in two volumes: Volume 1 and Volume 2
I immediately purchased copies for myself! The first surprise for me was to see that this English version, called a Comic not a Manga, still read from right to left, just as Japanese books do.

It was such a hoot to see how Hiroko Miura translated the story. I imagine this manga artist first translated the story into Japanese, then, for the Harlequin Comics (English) version, the Japanese was translated into English.
This makes for some amusing changes, such as Madame Bisou in my original becoming Madame Biz. Regency language (or how I imagine Regency language) was pretty consistent, though, as was the setting detail. Notice the drawing of Vauxhall Gardens.


Here's the meeting between the hero and heroine:


Here's an exciting moment!


And the happily ever after:


The emotion and danger and even the humor in the story were shown, as well. I loved reading it. Sometimes I laughed with delight at how Hiroko Miura showed the story.
But what really touched me was this note at the end of the second volume. What a wonderful compliment from Hiroko Miura.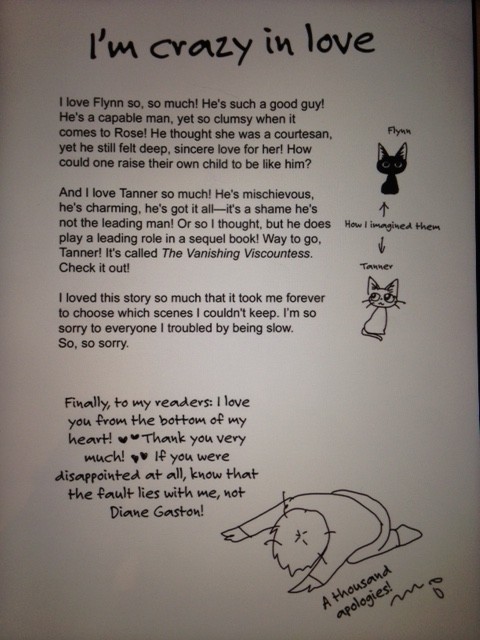 These are the moments that make the author life worth it!
Do you read Manga? Turns out there are lots of Harlequin Comics to choose from! What fun!!