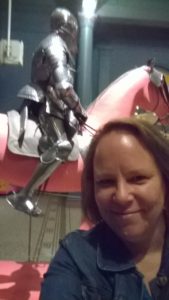 Last weekend, I enjoyed a visit to the Worcester Museum of Art. It's not a huge museum like another favorite, the Museum of Fine Arts in Boston, but it has interesting collections, laid out and presented in a way that encourages conversation. My daughters and I had a lot of interesting discussions while going through the galleries at the leisurely pace we all enjoy.
This museum has an interesting collection of arms and armor, where this sword caught my eye. Labeled "Smallsword, about 1790", it's attributed to Josiah Wedgewood or possibly Matthew Boulton. I love jasperware and own a few modern pieces, and I'm always amazed to find it decorating unexpected items. In the MFA in Boston, there's a pianoforte with jasperware medallions. Here, a sword.
Another treasure is this painting of "Mr. and Mrs. James Dunlop" by Sir Thomas Lawrence, who's credited with painting portraits of some of our fictitious Regency characters as well as the real ones. The painting is dated 1825, which surprises me a little. Her dress seems earlier. Perhaps any costume experts here could weigh in? In any case, it's a lovely image, something like I imagine our happy couples might look like.

I also love "The Banks of the Loire", by Joseph Mallord Turner, exhibited in 1829. It has such a romantic feel!

I always feel inspired after visiting art museums. Has anyone else visited this one? What did you think? Do you have any favorite lesser-known gems like this one?
Elena
P.S. I now have a free sampler of my work, if you'd like to try before you buy. It's available on Amazon, Barnes & Noble, iBooks, Kobo, and All Romance Ebooks.