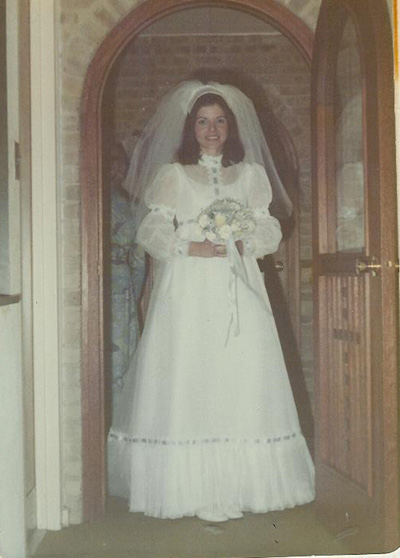 Today is my wedding anniversary! I've been married to my dear husband for a brazillion years–I won't say how many, but he tells me that he's supposed to get me dirt for our anniversary this year. Or maybe he meant land.
Like many of our fictional Regency heroes and heroines, we didn't know each other for very long before deciding to get married. We dated about two months before becoming engaged and we were married a year later, a year I spent away at graduate school. When I think back on that, I wonder what we were thinking???? But, hey, many of our friends and almost half of American couples didn't stick together, but we did!
Today we celebrate!
After I started writing Regency Historicals, I took a look at my wedding photos and got a surprise. I wore a Regency wedding dress!! Empire waist, leg-o-mutton sleeves, blue ribbon and lace trim. Regency, right?
Back then I'd never heard of Regency Historicals. I'd never read Georgette Heyer. Jane Austen had been a school assignment. I had never picked up a Signet or Zebra traditional regency book. I never, ever dreamed I would write Regency Historicals or fall in love with the history of the era.
But, somehow, I chose a Regency Wedding dress!
Maybe it was our good luck charm.