ETA: The giveaway is now closed (as are cover requests–if I didn't get to yours, see you next year!). Rube won the book!
So way back in 2013 I noticed that Booklikes was using the wrong cover for Cecilia Grant's A Gentleman Undone: a Polish-language scholarly book on medieval history with a distinctly scholarly-book cover. And then, a meme was born: re-cover romance novels to look like academic works. The rest is history. I've done all my own books:
I've done a bunch of other people's books:
(See previous posts in full: 1 2)
So of course I had to do one for Listen to the Moon! (My new small-town Regency romance, coming out Jan. 5, in which an impassive valet and a snarky maid marry to get a plum job. Read the first chapter and pre-order here.)
The real cover, which I love:
John Toogood dreamed of being valet to a great man…before he was laid off and blacklisted. Now he's stuck in small-town Lively St. Lemeston until London's Season opens and he can begin his embarrassing job hunt. His instant attraction to happy-go-lucky maid Sukey Grimes couldn't come at a worse time. Her manners are provincial, her respect for authority nonexistent, and her outdated cleaning methods—well, the less said about them, the better.
Behind John's austere façade, Sukey catches tantalizing glimpses of a lonely man with a gift for laughter. Yet her heart warns her not to fall for a man with one foot out the door, no matter how devastating his kiss.
Then he lands a butler job in town—but there's a catch. His employer, the vicar, insists Toogood be respectably married. Against both their better judgments, he and Sukey come to an arrangement. But the knot is barely tied when Sukey realizes she underestimated just how vexing it can be to be married to the boss…
First I made this scholarly cover, inspired by Crooked Talk: 500 Years of the Language of Crime by Jonathon Green.
Image credits: The man on the ladder is from "Picking Mulberries" by Thomas Rowlandson, moon and background, hammer.
But honestly, I like it way too much! It isn't funny. So, I did another one, inspired by A Fatal Friendship: Alexander Hamilton and Aaron Burr, by Arnold A. Rogow.
Image credit: "A new cock wanted, or work for the plumber" by Thomas Rowlandson.
In the comments, give me a suggestion for a romance you'd like to see a scholarly cover for! The romance can be written by you OR someone else. 🙂 One commenter (chosen at random) will win an e-book of Listen to the Moon in the format of their choice, and I will make a new cover for at least the first ten suggestions and add them to this post!
*
And a couple of links:
Sweet Disorder is 99¢ at all retailers right now! True Pretenses is $1.99 everywhere (and 99¢ on Kindle and Nook). Tell your friends!
To celebrate Listen to the Moon's release, I'm giving away a gift basket of related items, including (but not limited to!) fancy tea, Downton Abbey DVDs, Godiva cherry cordials, and The Butler's Guide to Running the Home and Other Graces. Enter to win at my blog.
*
ETA: requested covers
(By the way, I said this on twitter last night, but I want to clarify that I'm not doing this to replace romance covers with something "better." I love romance covers! This is just a fun way to explore and poke affectionate fun at the cover tropes of another genre I love, scholarly nonfiction. (If you could see me working on them you would hear a lot of "no, no, this font's not ugly enough!"…)
1. Vanessa Kelly's Sex and the Single Earl, for ki pha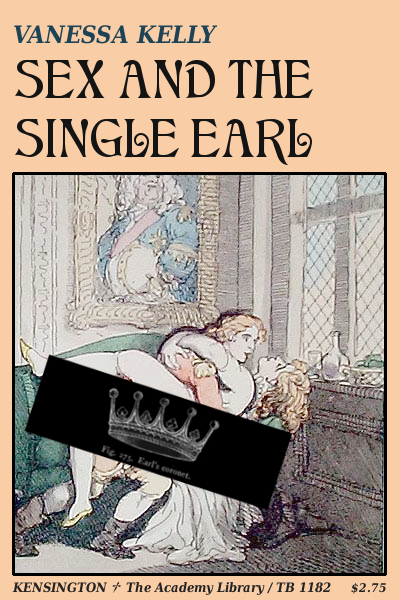 [Image description: Rowlandson colored engraving of a well-dressed couple having sex on a sofa under a fancy portrait (of the king?); a black CENSORED box with an earl's coronet on it covers the naughty bits.]
Image credits: Rowlandson engraving, coronet from An illustrated dictionary of words used in art and archaeology by JW Mollett.
Cover design partially inspired by London Life in the Eighteenth Century by M. Dorothy George.
2. Judith Ivory's Untie my Heart, for Karen
[Image description: top half of cover is solid blue with a pattern of antique chair designs, bottom half is a painting of a shepherdess.]
Image credits: "Shepherdess and Sheep, Fontainebleau" by Charles-Emile Jacque, and chairs from Handbook of ornament; a grammar of art, industrial and architectural designing in all its branches, for practical as well as theoretical use, here and here.
Cover partially inspired by The Pleasures of the Imagination: English Culture in the Eighteenth Century by John Brewer.
3. The Countess Conspiracy by Courtney Milan, for naomi.
[Image description: a Sargent pencil portrait of a sharp-faced woman, collaged with: a Victorian greenhouse design, a naturalist watercolor of a violet, a page from a geneticist manuscript, and a bunch of clip art.]
Image credits: Greenhouse, violet, portrait, scientific journal page, the design along the spine.
I really want to work in this pink snapdragon but it wasn't in the cards.
Inspired by The Exchange Artist by Jane Kamensky.
4. "A Knight in Shining Armor" by Jude Deveraux, for Janine Ballard.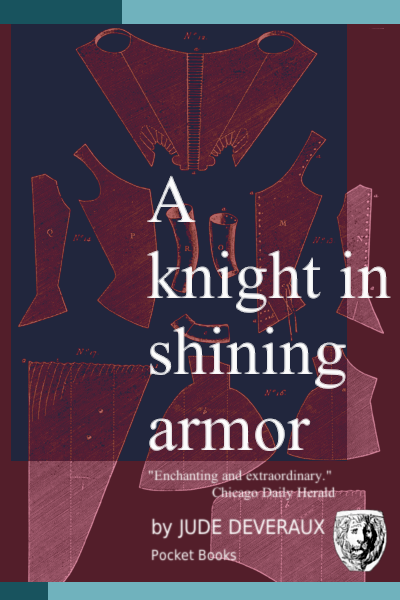 [Image description: Old corset pattern, with very 70s color blocking.]
Inspired by The Making of the English Working Class by E.P. Thompson.
5. "The Devil in Winter" by Lisa Kleypas, for eliz_s and Esti.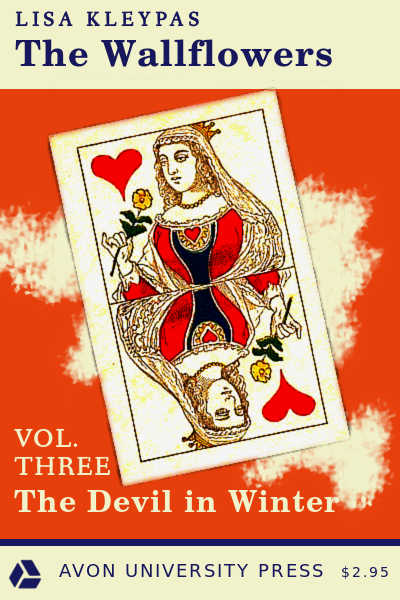 [Image description: A queen of hearts on a bright red background. Very late-60s design style.]
This is based pretty directly on The British Overseas: Exploits of a Nation of Shopkeepers; Part One, Making of the Empire, by C.E. Carrington. Image credit: queen of hearts.
6. "Fly with a Rogue" by Elena Greene, for my fellow Risky Elena!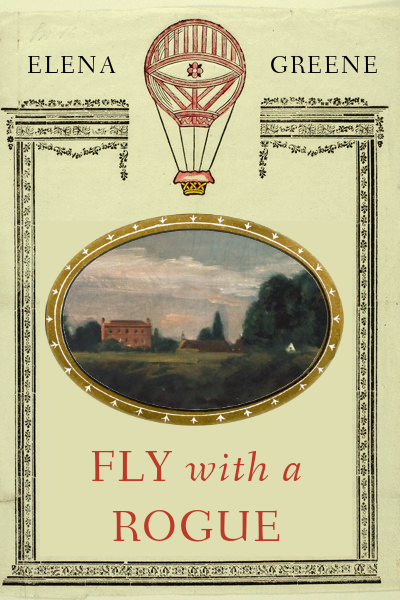 [Image description: Old paper with a little hot air balloon and border inked around the border, with a village landscape in a gold frame in the center.]
Image credits: paper and border, gold frame, Constable landscape.
Inspired by The Tower Menagerie by Daniel Hahn.
7. "A Week to be Wicked" by Tessa Dare, for Lisa.
[Image description: an 1820 geological map of England and Scotland, with a big green band across the middle with a dinosaur fossil in it. All with a faint greenish-brownish tinge.]
Inspired by Every Man Will Do His Duty by Dean King, and British 'Non-Elite' MPs, 1715–1820 by Ian R. Christie.
8. "Gentle Rogue" by Johanna Lindsey, for @booksandjoe.
[Image description: engraved portrait of a young woman dressed as a sailor in jacket and kerchief, with a background painting of a ship.]
Image credits: ship, portrait. The portrait (copyright National Portrait Gallery, London) is of Mary Anne Talbot, a real-life woman who joined the British Navy around the turn of the 19th century. I almost used this Raeburn portrait instead though, I really love it and I think it would make a great cover for a cross-dressing or genderbending book.
9. "The Shadow and the Star" by Laura Kinsale, for Nuha.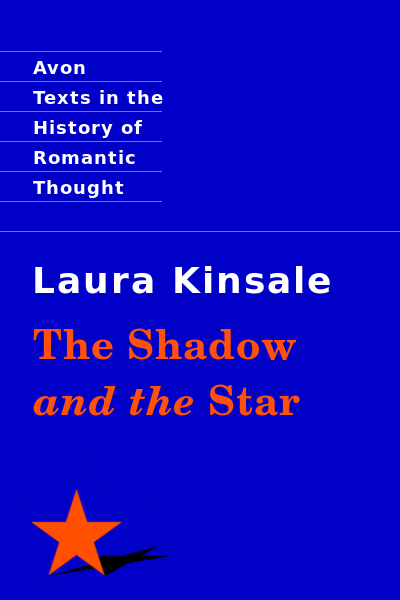 [Image description: orange and blue text-based cover in the "Avon Texts in the History of Romantic Thought" series, with a graphic of a five-pointed star with drop shadow.]
Based directly on this Mary Wollstonecraft cover, which is WAY brighter in person than it looks in the photo, I promise.
10. "Mr. Impossible" by Loretta Chase for rube. (By the way, while I was doing this one, I came across this, which…don't click if you have liquid in your mouth, is all I'll say.)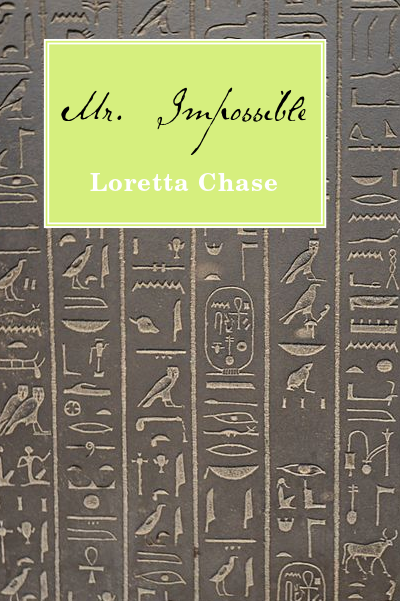 [Image description: Hieroglyphs carved into stone, with a simple olive-green box of text.]
Image credit: hieroglyphs photo by Gtoffoletto.
Inspired by The Press Gang in Orkney and Shetland by JDM Robertson.
That's it and that's all, folks! Thanks so much for playing, I had a blast today! I'm sorry if yours was one I didn't get to. 🙁 Next time! And now, to draw for the book…