Argo won Best Picture at the Academy Awards last night, a movie about government intelligence and secrets and cunning and daring. I was holding out for Les Miserables, but, oh well.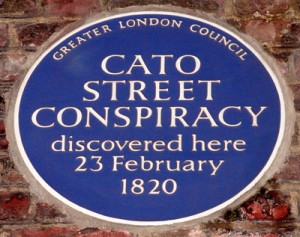 193 years ago, on Feb 23, 1820, government intelligence of the domestic sort and an almost revolution of the French sort played a crucial role in an event that became known as the Cato Street Conspiracy.
The times were unsettled. The end of the Napoleonic Wars and the shift from the rural agricultural society to an Industrial one set off economic hardships. Events such as the Spa Field Riots in 1816 and the Peterloo Massacre the previous August showed the social unrest and the call for parliamentary reform. The government's response to the unrest were The Six Acts, repressive measures which were aimed at limiting the freedom of the press, preventing large meetings, and otherwise attempting to prevent the possibility of an armed insurrection.
When King George III died in January, 1820, a revolutionary organization called the Spencean Philanthropists saw an opportunity. They hatched a plan to barge in on a dinner to be held by Lord Harrowby and slaughter the entire British cabinet and the Prime Minister, Lord Liverpool. The man who suggested the plan was George Edwards, second-in-command to the leader, Arthur Thistlewood. The killing of the cabinet ministers would be the first act an overthrow of the government and would spark a revolution similar to the French Revolution. Or that was the plan.
The problem was, it was a set-up. George Edwards was an agent provocateur, a government spy. While the conspirators gathered at a house on Cato Street to launch their attack, a Bow Street Magistrate and twelve of his Bow Street Runners were waiting across the street. At 7:30 pm they apprehended the conspirators. In the ensuing brawl, Thistlewood killed one policeman. All the conspirators were apprehended at the scene or later.
Four of them, including Thistlewood, were hanged and beheaded. Others were transported.
The government used this event to justify the Six Acts but in the House of Commons, Matthew Wood MP argued out that the government had used entrapment to smear the campaign for parliamentary reform. Had the government merely set the whole thing up or had their clandestine activities prevented a collapse of the government?
That could be the difference between the endings of Les Miserables and Argo!
What movies did you want to win at the Oscars? Which movie stars? (I was glad Ann Hathaway won)