In The Artist's Way, Julia Cameron recommends taking a weekly Artist Date: a no pressure, fun outing or activity that pleases your inner artist. The Corning Museum of Glass is one of my favorite Artist Date destinations. Recently I took my daughter and some of her friends there for her birthday celebration and was able to take some time for myself in the galleries and the studio.
For anyone who hasn't visited CMOG, there's a science section and a history section, where you can see everything from ancient Egyptian and Roman glass to Tiffany to modern art. There are some examples of Georgian and Regency glass—I'll get to those later. There are contemporary glass art galleries—a whole new section was recently added. You can also watch a glass blowing demo or make your own project at their studios. Here's a candy dish I made during this last visit.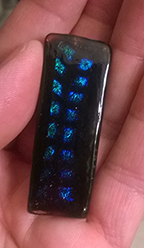 Rounding out this plug for CMOG, I'll say that the café is excellent and the gift shop is full of beautiful things. I especially love the jewelry. There are trinkets to suit different budgets, from this dichroic glass pendant I got on sale for $5, to more expensive, one-of-a-kind items from master glass artists. (And there are good post-holiday sales…)

Here are some of the Georgian and Regency items I enjoyed during this last visit.
The lovely enamel work on these glasses caught my eye. According to the label,
"The Beilby family painted much of the colorless enameled glass that was made in England during and after the 1760s. William Beilby (1740-1819) and his sister Mary (1749-1797) enameled glasses with floral motifs, landscapes, and pictures of architectural ruins. The most famous of their glasses are goblets bearing the royal coats of arms. These goblets mark the birth of the Prince of Wales (later King George IV) in 1762.
Here's a closeup that better shows the beauty of the enamel-work.
I love the color and the detailing on this item, labeled merely "Casket: Birmingham or London, 1760-1770".  I could see one of my heroines using it to store her jewelry.
And here are some items I could see gracing a Regency dining table: "Dessert Stand: England, about 1715-80. This set consists of a revolving stand, jelly glasses, flower vases, and a central sweetmeat glass." and "Pineapple Stand: England about 1830. This cut crystal stand was used to display pineapples, which were an exotic, highly prized status symbol in 19th century England."
They rotate items around, which is one of the reasons I like to go to CMOG at least once a year. I highly recommend it!
Do you have favorite museums or places you like to go for "Artist Dates"?
Elena