I had the great good fortune to spend the weekend in New Jersey (I'm not joking. I love New Jersey) at the New Jersey Romance Writers conference.
A Reputation for Notoriety was a Golden Leaf contest finalist for Best Historical, but, alas, my book did not win. The good news is that my friend Sally MacKenzie's Surprising Lord Jack won instead.
Fellow Riskies, Elena, Megan, Myretta, and Gail also attended the conference. I was able to spend a little time with each of them; a lot of time with Elena.
Regency and Scottish Historical author Cathy Maxwell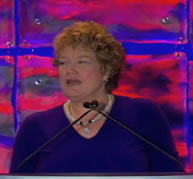 was also at the conference and gave a very inspiring workshop on Empowering the Writer. Her message was, basically, be true to yourself, as a writer and a person. In a very moving story she made the point that Man is an unfinished product and that every morning we should wake up and decide how to complete ourselves that day. We can fill ourselves with confidence, creativity, good will, optimism, or we can fill ourselves with fear, pessimism, and ill will. It is our choice.
So, today, how will you try to complete yourself?