Last week I discoursed (i.e. complained) about dipping temperatures and the arrival of winter weather. Lest you think Virginia has gone into another Little Ice Age, we had temperatures near 70 F last week. This past Sunday, though, winter returned.
Like most of the Midwest and MidAtlantic, we had a winter storm. Sunday we had snow and freezing rain. Today it has turned to rain. Here's the view of our deck. Icicles on the bird feeders!
Luckily we don't have to leave the house. I did what all good Virginians do when winter weather is forecast. I went to the grocery store and stocked up on milk, toilet paper, cat food and assorted snacks, so we are free to hibernate–at least until the cat food runs out.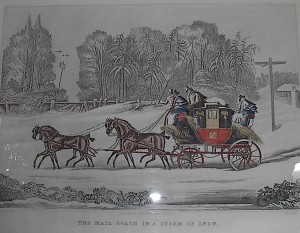 In the Regency, that is what people did in winter weather. They stayed at home and stayed as dry and warm as they could. Of course, not everyone could do that. Coaches did get caught in storms.
There are some wonderful blogs about Regency winters in Jane Austen's World, one of my go-to sites for great information:
1. Snow Sports and Winter Transportation in the Regency Era 
2. Keeping Warm in the Regency Part One and Part Two
If you are snowbound today (or even if you aren't!) come to the Harlequin.com's Holiday Open House. Today the Historical Authors are hosting a Holiday Ball. Come and see what refreshments are offered and what heroes are waiting to ask you to dance. There's a chance to win prizes, too!
And don't forget. The Harlequin Historical Authors Holiday Giveaway is still progressing. Access the Advent calendar here and see how to enter my part of the contest here. 
What is your favorite thing to do when winter weather shuts you in?