I read somewhere in my time wasting serious research online that the way to improve traffic to a blog was to cover certain topics so I thought I'd give it a try.
First, PETS. Here's Samuel Johnson's cat Hodge, of whom Boswell wrote:
I recollect him one day scrambling up Dr. Johnson's breast, apparently with much satisfaction, while my friend smiling and half-whistling, rubbed down his back, and pulled him by the tail; and when I observed he was a fine cat, saying, 'Why yes, Sir, but I have had cats whom I liked better than this;' and then as if perceiving Hodge to be out of countenance, adding, 'but he is a very fine cat, a very fine cat indeed.'
COLIN FIRTH Picture of Colin Firth with wet shirt for no particular reason.
Next, FASHION. PROMENADE COSTUME. From Ackermann's January 1814: A Plain cambric robe, with long gathered sleeve and high arched collar, trimmed with net lace or muslin. A Spanish lappelled coat of fine orange Merino cloth; full epaulette ornaments on the shoulders: the whole lined throughout with white sarsnet, and trimmed with a raised border of white velvet or swansdown. A small, provincial bonnet of the same material as the coat, ornamented with a full curled ostrich feather. White spotted ermine or Chinchilli muff. Gloves grey or light blue kid. Half-boots of orange-coloured jean, or velvet. But she still looks cold.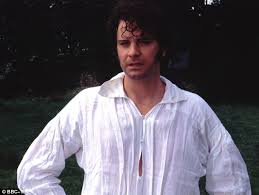 You may not ever have considered that when COLIN FIRTH plunged into that pond he might have encountered certain aquatic life forms. His attitude of discomfort may well have been not because he appeared in a state of undress but because he was anxious to get rid of certain attachments to his person…
There is actually a bit of dialogue, struck from the script that goes as follows:
Darcy: Madam (bows). Would you have some salt upon your person?
Elizabeth: Salt, sir?
Darcy: A match, then?
Elizabeth: Oh, certainly. (Takes a matchbook from her reticule)
Darcy: The Meryton Go-Go Swingers' Club? Ridiculous. Matches haven't even been invented yet. I suppose I'll have to wait until I get into the house.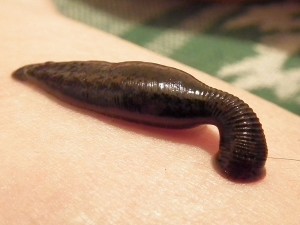 … Bringing us onto the next hot topic of HEALTH.  I thought this picture spoke for itself. I hope you appreciate that I passed over some truly disgusting pics to find one that showed the business but would not make you lose your lunch.
Talking of which, FOOD is always popular too, but I thought that instead, for a change, we'd have RICHARD ARMITAGE. Although I did find several artistic shots of his behind, I hate to tell you that it looked OK but pretty much like anyone else's. Unless you were on very intimate terms with Mr. Armitage (and someone certainly was) you'd never have known whether it was his or his bottom double's.
So there you have it, the Big Popular Topics and I expect our numbers will soar.
But seriously, is there anything you'd like to see us blog about here that we haven't yet covered? Any celebrity bottoms?