Yesterday, my daughters and I went out to shop for a prom dress for my youngest. We had a lot of fun and she found a lovely princess-y dress that fits her perfectly. It's making me think about pretty dresses in general, and the gowns Austen heroines wore to balls and other events.
Here's Catherine Morland in the 2007 Northanger Abbey, looking very pretty as she should. Love the embroidery!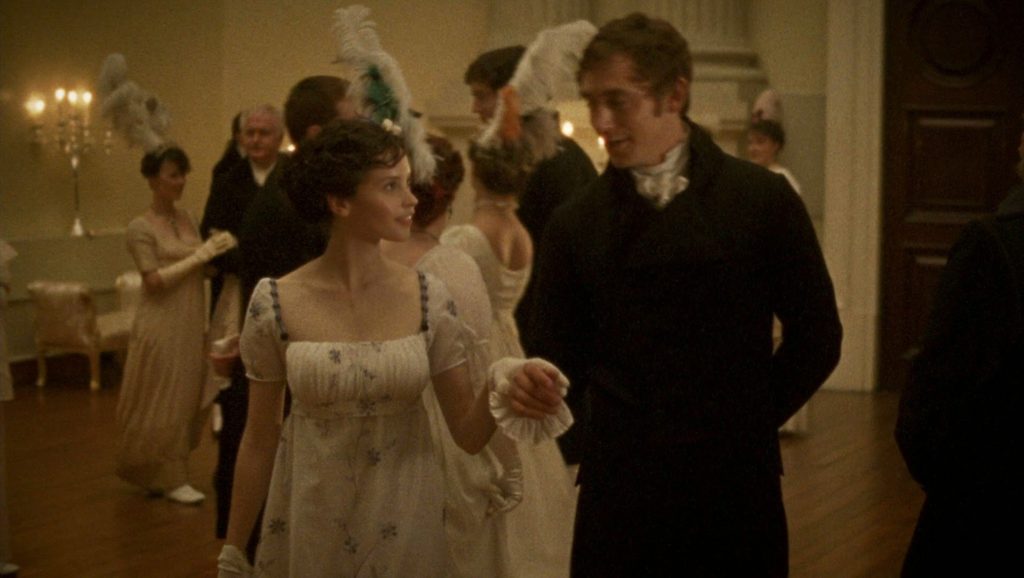 I had to show the 2007 version first. Here's an image from the 1986 version, which I thought as weird and problematic as the 2007 version was charming.

On to Pride & Prejudice–so many versions!
The costumes in the 1940 version always crack me up! I have heard they were reused from Gone with the Wind, but I can't verify that particular rumor.

Here's Elizabeth Garvie in the 1980 version, which I know many people like, though I thought David Rintoul was too stiff for Darcy. Anyway, she looks lovely and Regency, though perhaps that decolletage is more revealing than I expected for Elizabeth?
Here's Jennifer Ehle as Elizabeth in the much-loved 1995 version with Colin Firth. This must have been taken for promo purposes because it isn't from a scene in the movie, but shows the gown nicely. I love the pleating in the bodice and think her hair looks both accurate and lovely. Yes, I think this is my favorite P&P outfit.

And here's Keira Knightley in the 2005 version, known for its controversial costumes. The waist is lower than we expect for Regency (maybe it was an attempt at doing something more transitional, late 1790s?) but it is pretty. Her hair looks nice but doesn't feel quite accurate to me. The lack of gloves is rather jarring, too.

I know she's a minor villain and not the heroine, but I can't go without mentioning Caroline Bingley as played by Kelly Reilly. I've only seen one sleeveless gown in any period images, and that was in a portrait where the dress may have been more of a costume than regular apparel. Maybe this "gown" was intended to portray Caroline as racy and fashion-forward, but I can't help thinking real Regency people would be worrying that she'd lost her mind showing up at a ball in what looks more like undergarments. Though unlike Elizabeth, she is wearing gloves.

I thought the 1971 version of Sense and Sensibility was rather a snooze, but I'm finding some of these pics quite amusing. I hadn't remembered how much the sisters looked like twins. So dramatic and so fluffy! Though actually I rather love the gauzy sleeves.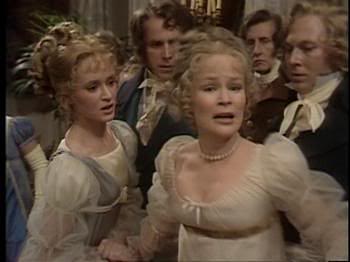 These are not ball gowns but this image of matchy-matchy outfits is too funny not to share.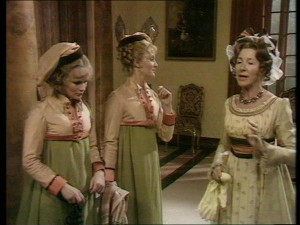 I really, really like these dresses from the 1996 version with Emma Thompson and Kate Winslet. I have a pale blue Regency gown, but if I ever get another, I'd like to have one like these, in a deeper color with metallic trim.


I liked the 2008 version of Sense and Sensibility, but I'm puzzled by the gloves in these pictures. Evening gloves in fashion prints and other pictures are nearly always white though I've heard of pink and yellow (not green though). Since the Dashwood sisters aren't wealthy, I would have thought they (especially Elinor) would have white ones that would go with any gown. But these don't even go well with the gowns! I have a theory. Maybe the kind but somewhat vulgar Mrs. Jennings bought them for the girls as a gift, and they felt obliged to wear them?


Here's Gwyneth Paltrow in the 1996 version of Emma. This is a nice example of a layered dress. Very chic! I've heard that the gowns for this production were a bit fancier than reality, but they are lovely to look at.


And here's an image from the 2009 version, which reminded me that that I have never seen it!  Now putting it onto my To Do List!  This gown is lovely and although white was popular, it's also historically accurate to have some colors.


Here's Amanda Root in the 1995 version of Persuasion. I like the detail around the neckline and the jewelry. Very lovely and ladylike!


Here's an image from the 2007 version, which I have mixed feelings about (well, no mixed feelings about that awkward-not-in-a-good-way kiss). But I like the velvet and the color is interesting.

I've seen two versions of Mansfield Park, neither of which I feel is a good representation of the book. Letting that go, I did enjoy the 1999 version as a story on its own. The embellishment on this dress is interesting–I'd like to hear from a costume expert as to whether it is accurate. But again, there is a shocking dearth of gloves.
The 2007 version I saw only once and thought it very strange. I couldn't find a ballroom image but here is Fanny on what must have been her wedding day. I'm not sure what I dislike more: the inaccuracy of the costuming, her pose, or her sullen expression.
So which dresses are your favorites?  Any theories on the odd gloves in the 2008 S&S, or Caroline Bingley's gown in the 2005 P&P? Or why Fanny looks so unhappy about marrying Edmund?
Elena