Today we're welcoming Harlequin Historical author Joanna Fulford, to talk about Book 7 (of 8!) in the Castonbury Park series!  Comment for a chance to win a copy…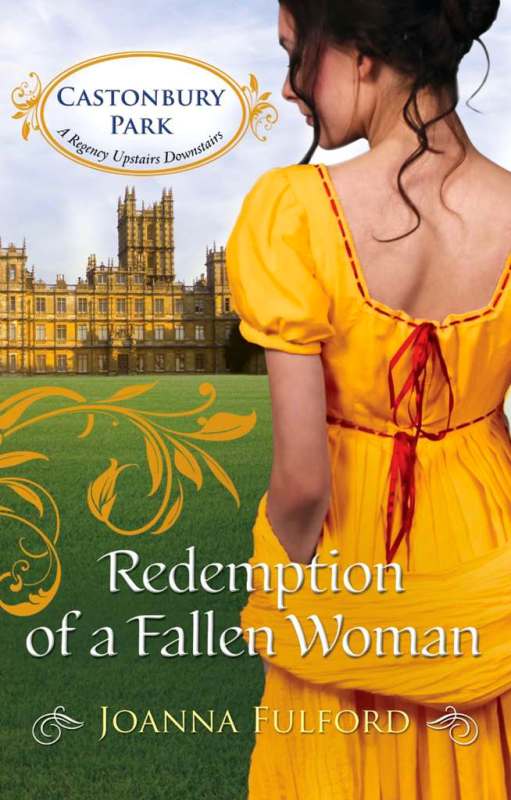 Redemption of a Fallen Woman is the seventh book in the Castonbury Park series and is due for release in February. Hoping to save his family from ruin, my hero, ex-soldier Harry Montague, reluctantly returns to Spain to seek vital information about the death of his brother, Jamie. On arrival in Madrid, Harry meets fiery Spanish beauty, Elena Ruiz. Elena is a fallen woman whose chequered past is about to result in her being incarcerated in a convent. Among her transgressions are the two years she spent with a guerrilla group, fighting the French.
The ideas for this story arose from the years when I lived in Madrid. It was the base for subsequent explorations of Iberia, including the wonderful cities of Seville and Cádiz which feature in the book. My travels often took me up-country as well. One weekend, quite by accident, I discovered Patones, a small hillside village in the foothills of the Sierra de Guadarrama. I suspect that most people find Patones by accident. Even by modern standards it's pretty remote, but at the time of the Peninsular Campaign (1808-1814) it was truly isolated. In spite of their best efforts, Napoleon's forces never did find the place so it was spared the ravages inflicted on other villages and towns. It must have been an ideal base for guerrilla fighters during that conflict. Years later the memory of that trip gave me the idea for my heroine's backstory.
The word guerrilla means little war. Although it was an old established method of fighting, the term was first coined in Spain during the Napoleonic Invasion. The guerrillas used hit-and-run tactics in their insurgency against the occupying French. A French sniper called Mignolet wrote home: "We are surrounded by 40,000 Spanish brigands whom we must fight every day – and the situation gets no better, but worse…"
Mignolet's pessimistic assessment reflects the part played by the local topography. Spain is one of the most mountainous countries in Europe. At its centre are high plains crossed by mountain ranges and rivers. It's a wild and spectacular landscape, but it's also ideal terrain for guerrilla warfare. There were numerous bands involved, each with its own agenda. My guerrilla leader, Juan Montera, is fictional, as is the brigand, El Lobo, but they are representative of the different groups in action at the time.
Being undisciplined irregulars, the guerillas were of little use in open battle against cavalry. Where they really came into their own was in providing accurate military intelligence. Wellington had good cause to be grateful for this. After Talavera, for example, he marched off with a force of 18,000 men to attack what he believed to be a detachment of 10,000 French troops. The 'detachment' turned out to be three army corps numbering well over 50,000 men. But for a timely warning from the local guerrillas it is likely that Wellington and his force would have been annihilated. Fortunately, he was able to retreat in time.
Spain has been accurately described as a beautiful blood-soaked land. It has shaped my hero and heroine in different ways, and created the deep emotional conflicts that they must resolve. It was fun to go with them on that journey. I hope you'll enjoy it too.