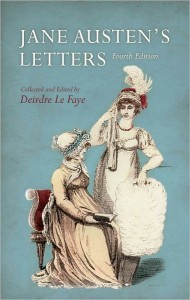 Megan has fallen and hurt her wrist, so you get me for another week.  I had nothing prepared for you, I'm going to tell you  about what I'm working on.
At The Republic of Pemberley, we are slowly working through Jane Austen's letter.  At least once a year, we read a tranche. Tomorrow, we embark on letters 76 through 91 (using the Chapman numbering system and Deirdre Le Faye's excellent edition of her letters).
This is a great bunch of letters and particularly appropriate for the 200th anniversary of the publication of Pride & Prejudice .
Letter 79, written on January 29, 1813 to Jane Austen's sister, Cassandra, is the one in which she talks about receiving the first copy of Pride & Prejudice from her editor (through her brother, Henry, who lived in London and dealt with the editor for Jane).
I want to tell you that I have got my own darling Child from London; — on Wednesday I received one Copy, sent down by Falknor, with three lines from Henry to say that he had given another to Charles & sent a 3d by the Coach to Godmersham; just the two Sets which I was least eager for the disposal of.
So, her brother Henry sent her the first copy and then sent the two others he had to her brothers Charles and Edward (at Godmersham).  Jane apparently would rather have been consulted about where they were sent.
In this letter, in discussing the errors she had already found in the text,  she says, "I do not write for such dull Elves. As have not a great deal of Ingenuity themselves."
This group of letters contains some of my favorite Jane Austen quotes.  In Letter 80, she tells Cassandra that Pride & Prejudice, "is rather too light & bright and sparkling"  she goes on to say
…it wants shade; — it wants to be stretched out here & there with a long Chapter — of sense if it could be had, if not of solemn specious nonsense — about something unconnected with the story; an Essay on Writing, a critique on Walter Scott, or the history of Buonaparte — or anything that would form a contrast & bring the reader with increased delight to the playfulness & Epigrammaticsm of general stile.
she makes me giggle.
I could go on for quite some time excerpting from Jane Austen's letters.  They contain some of her most pointed quotations and are well worth the read. The Brabourne edition of the letters is not quite as complete and lacks the Le Faye's wonderful notes, but it is out of copyright and, therefore, available to you on line.  I've linked the Republic of Pemberley Brabourne pages above.
Or if you just want a taste here is our Famous quotes from the letters (or quotes that should be famous).  Enjoy!