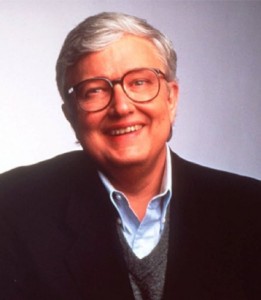 "Kindness" covers all of my political beliefs. … I believe that if, at the end, according to our abilities, we have done something to make others a little happier, and something to make ourselves a little happier, that is about the best we can do. To make others less happy is a crime. To make ourselves unhappy is where all crime starts. We must try to contribute joy to the world. That is true no matter what our problems, our health, our circumstances. We must try. I didn't always know this and am happy I lived long enough to find it out.  Roger Ebert, 1942—2013
"The more Roger became a prisoner of his body, the more he seemed to escape into his rich and sophisticated mind. By the agreement of almost everyone I know, his writing in these last years was among the best he'd ever done, more personal and expansive, marked by a still-astonishing rate of productivity. He wrote a wonderful memoir, close in its deceptively profound, plainspoken way to two of the writers Roger most admired: Charles Dickens and Samuel Johnson. And indeed, Roger was nothing if not an Anglophile: Among the least known books he authored is a slender volume called 'The Perfect London Walk,' an instructional travel book that, having taken the journey it maps, I can assure you is a rare case of truth in titling." (Scott Foundas, Variety)
Last week, a great person passed away when Roger Ebert died at age 70. Since he seemed above all to appreciate great storytelling (and to be a great storyteller himself!) I wanted to talk a little about him here.
I love movies for the same reason I love books and writing—I love stories and characters, I love how they can show us deep truths about ourselves and the world around us in a way nothing else can. In Roger Ebert's reviews and blog essays, I found this same passion, and was always inspired by what he had to say. Every week I ran to his blog to see what new movies were coming out, because he always told us not only what to see but how to think about what we had seen. How to find the truth of every story, good and bad, in our own hearts. (In fact, the number one best piece of writing advice I ever read came from him–"It's not what a movie is about, it's how it is about it." This is true for books as well as something like, say, Tree of Life or La Dolce Vita)
"He saw, and felt, and described the movies more effectively, more cinematically, and more warmly than just about anyone writing about anything. Even his pans had a warmth to them. Even when you disagreed with Roger you found yourself imagining the movie he saw, and loved (or hated) more than you did." (Michael Phillips, Chicago Tribune)
His reviews were always witty and intelligent, clearly written and evocative. Never snobby (he loved a great popcorn movie as much as French indie) or faux-populist. Just clear, beautiful writing evoking what makes a story great, or even what makes it, well, suck. He always just seemed like a super-smart guy who wanted to talk to us all about movies, who wanted to hear what we thought as much as he wanted to tell us his own opinions. (his very active Twitter account can testify to how much he seemed to love that connection!). And his writing on politics and social causes was just as evocative and amazing as his movie reviews. He loved movies, people, and life, and it always came through in his writing.
"The irony is that it all feels so personally sad. It feels so personally, profoundly awful and unfair, and I feel it with the grief nerves, not just the admiration nerves, because people whose books you destroy from overuse as a 16-year-old, you will grieve when they die as if you knew them, whether they are novelists or critics. But still, after all that, I was doing all right until I remembered that he's not going to write about any more movies. And I'm still not ready for that." (Linda Holmes, NPR)
He was an inspiration in real life as well. His great love for his wife and family, his kindness and humanity, the way he forged ahead with life in the face of immense health problems that would have made most of us give up, the way he always found wonder and connection no matter what, is an example for everyone in the best way to live our lives and make the most of our precious time and talents.
"'Start writing. Short sentences. Describe it. Just describe it."
"Roger said, when I asked him about writer's block. Then he quoted the first three paragraphs of his 'Persona' review and told me that it had completely baffled him in 1967 but this strategy worked brilliantly. Tonight, as I sit here numbly staring at the screen with the hardest writer's block I've ever known, I place my fingers on the keyboard to follow the advice of the greatest man I know, and just describe it." (Grace Wang)
(You can read his last review, and many tributes, at his website…)
It's hard when we lose our heroes. It's hard to know I will never see what he thinks about a new movie again. But I can enjoy re-reading his words, and can be inspired by them all over again. Who are some of your heroes this week?? What inspiration have you found at the movies?