I'm thrilled today to welcome Syrie James, one of my favorite Austenesque authors. Syrie is giving away a copy of her latest book, The Missing Manuscript of Jane Austen, to one person who comments today.
S
yrie James is the bestselling author of eight critically acclaimed novels, including The Missing Manuscript of Jane Austen, The Lost Memoirs of Jane Austen, The Secret Diaries of Charlotte Brontë, Dracula My Love, Nocturne, Forbidden, and The Harrison Duet: Songbird and Propositions. Her books have been translated into eighteen foreign languages. In addition to her work as a novelist, she is a screenwriter, a member of the Writers Guild of America, and a life member of the Jane Austen Society of North America. She lives with her family in Los Angeles, California. Connect with her on her website, Facebook, and Twitter.
Syrie's talking about a subject close to the Riskies' hearts today–research. Take it away, Syrie….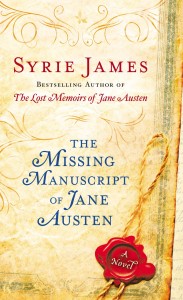 I had done a great deal of Austen and Regency era research when I wrote my novel The Lost Memoirs of Jane Austen, an education which has been enhanced over the years by additional reading and by JASNA's many fun and informative conferences and meetings. I'd visited England many times including a wonderful, self-guided Jane Austen tour several years before.
To add to that background, I paid great attention to the story structure, character types, character arcs, locations, situations, and themes of Austen's novels, to ensure that the book would fit within her canon, and be the kind of novel she might have written. I immersed myself in research about life in the Regency era. I pored over the annotated versions of Austen's novels edited by David M. Shapard, finding valuable information about the world and the language in the annotations themselves. I re-read Jane Austen's letters again and again, because they are full of a wealth of small details.
The novel also required research into a variety of additional subjects related to specific aspects of the story. I found a friend and Londoner who was kind enough to research obscure facts for me, such as clerical stipends and the cost of nineteenth-century bell forging. She also read the first draft of the manuscript to make sure it didn't contain any egregious Americanisms.
For the modern day story, I worked with a doctor to hammer out and verify the medical details, such as Mary I. Jesse's condition, the subplot regarding Samantha's doctor boyfriend, and the back story regarding her mother's illness. I worked with a university Special Collections Librarian to understand Samantha's current occupation, and with an English professor to gain insight into Samantha's teaching background.
I contacted Oxford University for details regarding their doctoral program. I researched the sales records for the most expensive manuscripts ever sold. I studied the way sales are conducted at Sotheby's Auction House. And of course I continued to re-read Austen's novels the entire time I was writing, to keep her voice in my head!
Question of the day–what's YOUR ideal research trip?
Update: Entries open until Saturday 12 midnight EST.