I've been so busy the last few weeks (trying to get ahead on the WIP, packing my 50 boxes of books for a move, taking care of a sick cat who has suddenly become very, very picky about his food….) that the beginning of September completely passed me by!  And with the beginning of September I had a new book release.  So I am talking about it today!  Better late than never, right???
Wed to wickedness 
In Society's eyes, Hayden Fitzwalter, Earl of Ramsay and Jane Bancroft have the perfect marriage. But what can't be seen are the secrets hidden behind closed doors. Believing Hayden will never renounce his dissolute ways, Jane flees to her family's dilapidated estate in the country. 
Years later, Hayden now longs to win back the only woman who has ever touched his heart. But first he has to convince her that this rogue is ready to be tamed…. 
BANCROFTS OF BARTON PARK …Two sisters, two scandals, two sizzling love affairs
This story felt very risky to me when I was writing it.  I had never tried a "marriage in trouble" story before.  My stories have always followed the general romance outline–meeting (or re-meeting), liking or hating, getting to know each other, falling in love, marrying.  Maybe a villain or evil plot or two along the way!  This time there was no meeting/falling (though I show glimpses in flashbacks, another risky thing for me, but I really wanted to show how happy they were at first, and what went wrong).  This was a couple married in a time when marriage was nearly impossible to get out of, but who couldn't bear to be together any longer.  They felt broken.  It almost broke MY heart, because I always want the best for my characters!!!  It's hard for me to be mean to them, even when it's for their own good….
Unlike many historical romances, the bulk of the book is not centered on the couple winning each other into matrimony but on the healing of a struggling marriage, the revelation of their pasts (particularly Hayden's) and how difficult it is to change even when that change is fervently desired. Add the mystery and danger of a hidden treasure and a truly distasteful man and McCabe has created an enjoyable romance with a different focus than most…I am eagerly awaiting book two. –Fresh Fiction
But honestly, Jane and Hayden needed to learn their lessons.  It's a story that's common even now–they married young, in the first flush of new passion, naive and impulsive.  Jane didn't know how to be a countess; she had grown up in a ramshackle country house with an unconventional, scholarly family, taking care of her little sister Emma.  Hayden saw no need to give up his wild life just because he had a wife.  A few miscarriages drove them even further apart, until they had to separate.  But a few years later, they've both grown up a lot, and can see the enormity of what they've lost.
I admit it–I cried a bit when they started to get back together.  They were meant to be together, darn it!!  They just needed to figure that out…
Hayden and Jane were truly a couple who belonged together. They simply did not know how to handle a marriage. Jane tried to explain what she needed, but Hayden had only his parent's example and could not understand. As a result, thw two must face the question is love enough? Find out in The Runaway Countess by Amanda McCabe. A little maturity and a lot of love can make a difference. Amanda McCabe has penned an amazing historical romance with just the right touch of suspense, some surprise revelations and a highly romantic ending. –Cataromance
It was also a risky story for me in that I wanted to try an Austen-esque setting.  Not in the style of Austen; I would never, ever be brave enough for that!!  But a small village, where everyone knows each other and small-seeming concerns become large, where family relationships are important, and the house is a character in itself.  (I wanted to go live at Barton Park, spend my days puttering in the garden and sewing by the fire…)  I ended up having lots of fun with it, though I missed my Gothic storms and poison plots.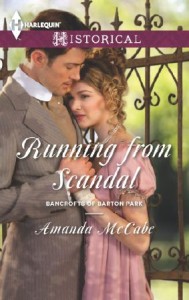 The life of Barton Park continues in December, with Emma's story, Running From Scandal.  She has to learn to grow up a bit, too–and might end up with a man she would never have dreamed of ever thinking about before, LOL.
The book is available on Amazon
And my own website has excerpts and more info…
I apologize in advance, you are going to be hearing a lot from me in the next few months!  I have releases every month until the end of the year.  October brings the debut of my Elizabethan mystery series, written as Amanda Carmack, Murder at Hatfield House!  I am sooooo excited about these books.  November will bring a Christmas novella, A Very Tudor Christmas.  And December Emma's book.  Whew!
In the meantime–do you like "marriage in trouble" stories?? What kind of dream house would you want, if you could choose any? (I am torn between a beach bungalow and an English country house.  Or a Paris apartment with a view of the Eiffel Tower…)  Comment for a chance to win a signed copy of  Countess!!!