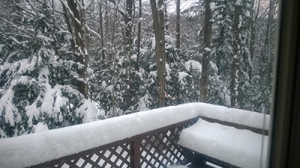 Here's the view off my back deck. So pretty!
I have nothing very Regency for you today, except the thought that while Christmas is mentioned in many (all?) of Jane Austen's novels, I can't recall any mention of buying presents. Not having written a Christmas Regency, I haven't done any intense research into the subject, but most of what I've read seems to revolve around food and parlor games.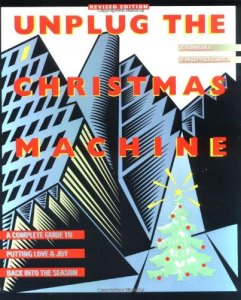 If I had my way, that's how it would still be. This whole idea of a mad rush of shopping from Black Friday to Christmas gives me the hives. I'm a firm believer in the concept of Unplug the Christmas Machine, a program for reclaiming the warmth and meaning of Christmas or any other holiday.
I'm not that excited about buying presents, maybe because I'm ambivalent about receiving them. I don't want New Stuff when I have Old Stuff that works. I do like to get more books, music and the occasional bit of jewelry, but most people don't know my taste well enough to choose what I'd really like. I'd rather just treat myself occasionally. So I worry about whether I'm choosing the right thing for others. That's why in my family we use lists. But I'm fine with the idea that we could give gifts to the children and as adults, just enjoy the other parts of the holiday season.
I'm not seriously opposed to Black Friday. If any of you went out early or are out there now, I hope you were/are warm and safe and having a good time. But it is not my thing. I sometimes enjoy shopping, I'm enough of an introvert to prefer to do it when the stores aren't too busy. In response to those ads encouraging me to "win" Black Friday, sorry, I don't want to play.
As for shopping on Thanksgiving Day itself, I won't do it. I believe store employees should have the day off to be with their families, if that is what they want.
But perhaps for some people, the prospect of spending a whole day with family is the very reason they're eager to get out and shop. I get that. Some families are nothing like the ones shown in holiday advertising. Sometimes you need to get away. Personally I'm inclined to look for better solutions: ways to cope with family such as meditation or taking a walk, adapting traditions that don't work well, finding other people to be with or spending the time volunteering.
Which makes me think a lot about holiday advertising. Commercials show those perfect-seeming families and at the same time, urge everyone to show their love—or distract themselves from the lack thereof—by spending more time in stores or online.
Is it messed up? What do you think?
Elena