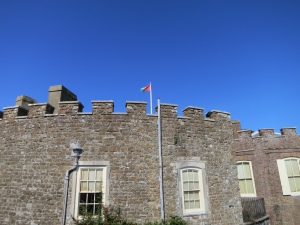 I arrived home yesterday at about 9:30 pm, which was like 2:30 am in the UK, so I am a little tired today but already missing England. There were so many wonderful experiences on this trip, it is hard to pick out one to share today.
Since this was The Duke of Wellington tour, most of the sites we visited related to the Duke. One I knew little about was Walmer Castle.
The Duke of Wellington was appointed Lord Warden of the Cinque Ports, a post he held for 23 years. The Cinque Ports are five ports on the English Channel that were originally formed for military and trade purposes, but is now entirely ceremonial. Henry VIII built Walmer Castle as a defense against possible invasion.
Wellington spent part of each year at Walmer Castle. One of the reasons he liked it so well was that it was enough distant from London that he was not inundated by visitors. One notable visitor, though, was Queen Victoria who came with Prince Albert and their two oldest children.
We saw Wellington's bed chamber at Walmer. There was a writing desk under a window where Wellington wrote letters early in the morning, looking out at the sea as he did so. Wellington wrote letters standing up and the desk looked somewhat like a lectern.  In that room was his camp bed where he preferred to sleep and also the arm chair where he suffered his fatal stroke.
Wellington used to walk every day and he was a favorite with the local children. He'd keep a number of sovereigns each suspended from a red or a blue ribbon. He'd ask the children if they were for the navy or the army. Navy received blue ribbons and army received red ones.
The gardens of Walmer, now beautiful, were reputed to be a shambles during Wellington's tenure. He'd hired a gardner with no knowledge or experience in gardening. One day in London a Sergeant Townsend wrote to the Duke to complain of being discharged from the army without a pension. Wellington gave him the job of gardener at Walmer.
The gardens are beautiful today.
Two other notable Lords of the Cinque Ports were Sir Winston Churchill and the Queen Mother.
More later!