A retreat. Sylvan peace and lots of writing.
Sort of. That's what I was doing last week, at a writers' retreat in NC (and I have to say it, but the south is weird. Just weird. Sorry, y'all. But that's not what this post is about).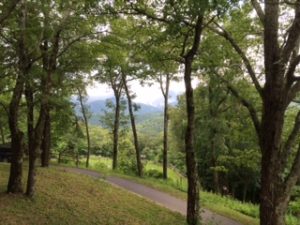 There were trees. Lots of trees. Mountains. Fresh air. And at 3000′ you don't need AC. It was incredibly quiet, too. I consider that I live in a quiet place although there is a constant hum of traffic, and on the weekends a lot of screechy power tools as neighbors beautify their surroundings. We even have more birds here. The dawn chorus up in the mountains was fairly restrained.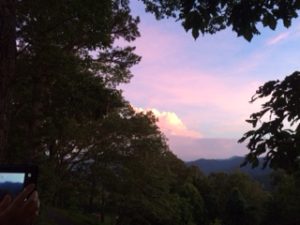 Lovely sunsets and spectacular storms. This pic captures both.
Also lots of wildlife. We were told not to hike the trails alone because there had been bear sightings, although I'm not sure if anyone had told the bears not to come onto the tarmac. We didn't see any. I saw deer and wild turkeys that did not stand still long enough for me to take their pics, altho this sleeping beauty, a lunar
moth, allowed itself to be photographed. It was quite big. There is nothing to indicate scale here except that it is on a window sill. Now if that was a piano keyboard in the background it would be a truly monster moth.
The other wildlife was the writers, a friendly bunch who liked to party. I'd post the pic of the pirate party but inexplicably it's upside down. Just imagine.
This wasn't a romance writers event and so there were no editors or agents and it was a time for people to write, critique, and talk about writing. There were also readings, again generally a non-romance thing. I had some notoriety as someone who wrote filthy stuff and considered reading a spanking scene aloud until I realized that to do so I would have to use three different dialogue voices, and decided against it.
So was it worth it? Definitely, yes. Do you really need to get away into a different environment with minimal internet and (mostly) no phone to  crank up your writing? I'm undecided. If I wanted to lock myself up and write write write this wasn't the place to do so, since there were classes to attend or audit. (I chickened out midway through the week and drove to the nearest Burger King to read my emails.) But it was a good place to take a breath and plan what to do, and where my writing should go next.
Have you been on a retreat? Did you find it useful?