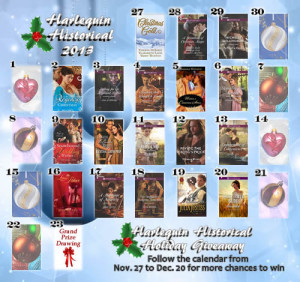 The Harlequin Historical Holiday Giveaway is coming soon. This will be our third giveaway and again the grand prize will be a Kindle Fire HD (or equivalent tablet depending on your location). Starting November 27, play every day for more chances to win. Each participating author will have an activity planned on their website for their special day. At the end of the month on December 23, one grand prize winner of the Kindle Fire will be randomly selected from all the days' entrants. The more days you visit, the better your chances! Happy Holidays and we look forward to seeing you.
Check my website or Amanda's on the 27th for the Advent Calendar and the rules for entry. My prize day will be December 17, but I'll give you all the details on the 27th.
Here are the participating authors and their dates:
Cheryl St. John – November 27
Elizabeth Rolls – November 28
Michelle Willingham – November 29
Annie Burrows – December 2
Ann Lethbridge – December 3
Marguerite Kaye – December 4
Barbara Monajem – December 5
Amanda McCabe – December 6
Louise Allen – December 9
Blythe Gifford – December 10
Kate Bridges – December 11
Michelle Styles – December 12
Georgie Lee – December 13
Jeannie Lin – December 16
Diane Gaston – December 17
Terri Brisbin – December 18
Julia Justiss – December 19
Lynna Banning – December 20
Grand Prize Drawing – December 23
Be ready to enter and celebrate the holidays with us.