This week seems to have been All About Love in my world! Love of all sorts. Love of the start of summer, of warm weather, sundresses, cookouts, hammocks, concerts in the park. Love of Starbucks Green Tea Frappucino, and re-reading old favorites (like I Capture the Castle and Middlemarch).
Love of weddings! My baby brother was married off last week to a woman who is kind, thoughtful, smart, and pretty, and their wedding was a joyful occasion. Laid-back and relaxed (after months of stressful planning, of course!), with lots of music, good food, and margaritas. Now I fear she is stuck with him, and the rest of us McCabes, forever! (I will post pictures next week…)
Love of a new perfume. Among the samples I ordered after reading Perfumes: The Guide was Guerlain's Apres L'Ondee. It was described as having the delicate, tender scent of a garden after a rainstorm, and it does! It's delicious, and actually smells good on me (a rarity). Love at first smell. Sadly, my new love us elusive. It's no longer imported into the US, so when I go to Europe this fall I am tracking it down.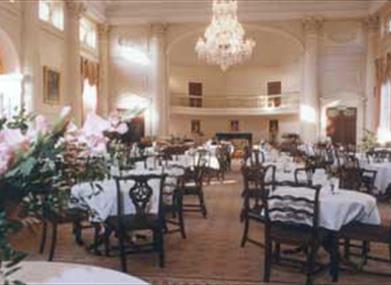 And love of writing! In the course of researching my latest Bath-set WIP, I found out you can actually get married at the Pump Room. How much fun would that be?? (As long as you didn't make the guests toast with the water…)
You can also get married at the Brighton Pavilion. While I would wear a white muslin dress at the Pump Room, maybe with a little veiled bonnet, at the Pavilion I would go with something grander. Lace and velvet with a train, and a big tiara!
Or there is Hever Castle, family home of Anne Boleyn. The grand Tudor hall is available only in the winter months, so I can picture a white satin 1530s gown, with fur-lined sleeves and a pearl and crystal trim.
And last but not least, you can make a run for Gretna Green! Yes, you can actually elope (well, elope after considerable paperwork) over the border to an all-inclusive wedding chapel. I think they even have an anvil. Not sure what I would wear for this one, but it sure looks like fun!
What are you in love with this week? Which of these wedding choices would you go with?